Grapevines have been growing in Nova Scotia since the 1600s, although the first commercial wineries weren't established until the early 1980s. The first two decades saw lots of experimentation; growers and producers were figuring out what grapes were best suited to our marginal climate to produce quality wine.
Fast forward to the 2000s, a period that saw exponential growth in the Nova Scotia wine industry and the gradual emergence of a Nova Scotia wine identity which continues to develop. Today, Nova Scotia produces all wine styles: white, red, rose, dry, sweet, ice wine, passito, fortified, still and sparkling. Quality can be found in all categories yet if you ask just about any local wine lover or sommelier they will tell you it is our Traditional Method sparkling wines that have put us on the world wine map.
About Traditional Method Sparkling Wines
There are many methods of making sparkling wine. The Traditional Method, also called Champagne Method or Classical Method, refers to the second fermentation of wine that occurs in a bottle after primary alcoholic fermentation. The CO2 released during fermentation is trapped in the wine as tiny bubbles and the wine develops complex aromas and textural qualities from ageing on the yeast sediment in bottle. This process is called "en tirage". The yeast is eventually removed after a period of time.
Our Climate
Nova Scotia is a cold, continental climate with a maritime influence. Proximity to large bodies of water influence the climate by extending the growing season. We locals like to complain about the cold winters, but for the most part, the grapes don't mind it too much. Some of the hardier varietals even find it mild. Our Springs are long and summers are warm but, sadly, too short. A key factor in the region's ability to produce ideal sparkling wine grapes is that our fall season can extend well into late October providing the ideal conditions for the grapes to ripen slowly and evenly. This long growing season along with a marked diurnal variation (difference between daytime and nighttime temperature) allows for proper phenolic ripeness of grapes ; sugar levels never become excessive and vibrant malic acidity remains high. These are two very desirable qualities for grapes destined to become traditional method sparkling wines and Nova Scotia's terroir is a natural fit!
Nova Scotia's identity as a sparkling wine province dates back to the early 2000s when a few visionary producers saw the potential in the region's terroir for crafting this style of wine. Today, many Nova Scotia wineries produce Traditional Method Sparkling wines, some wineries, like L'Acadie Vineyards and Benjamin Bridge, have made it their main focus and have become known as "sparkling wine houses". While others like Avondale Sky, Blomidon Estate Winery, and Lightfoot & Wolfville produce some bottle fermented sparkling wines in addition to their broader portfolio of still wines. Across the board, Nova Scotia sparkling wine always fares well in national and international competitions.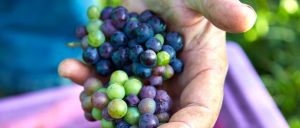 Our Grapes
Any grape used for still wine can be made into a sparkling wine, but there are some varietals better suited to this style. The main grapes for Champagne are Chardonnay, Pinot Noir and Pinot Meunier. At this time, Nova Scotian wine producers are permitted to use any grape varietal to craft their sparkling wines; there are blends, single varietals, vinifera and hybrids. It is not surprising that the three most planted grapes in Nova Scotia are white grapes which all produce excellent sparkling wines. L'Acadie Blanc and New York Muscat are two winter hardy and reliable French American Hybrid grapes that produce high quality still wines and bubblies. The more neutral L'Acadie Blanc is better suited to Traditional Method sparkling wines acting like a blank canvas to develop complexity by ageing on the yeast lees. The aromatic Muscat grape is more commonly used in lightly fizzy and fun styles made in the Charmat method. Chardonnay, the most planted white vinifera, is the main white grape of Champagne and is shining as a single varietal and in blends, especially with Pinot Noir and Pinot Meunier.
Nova Scotia's signature white hybrid grape, L'Acadie Blanc, is winemaker Bruce Ewert's preferred grape to work with at his family winery, L'Acadie Vineyards in the Gaspereau Valley. Nova Scotians who enjoy local bubbly can thank BC transplant Bruce Ewert for seeing the potential in our terroir and championing this style here on the East Coast. L'Acadie Vineyards is a winemaker-owned winery with a certified organic vineyard established in 2004. Bruce chose his location in the Gaspereau Valley because of the soil – schist and gravel for minerality – which are desirable qualities for sparkling wines. L'Acadie Vineyards released the first Nova Scotian sparkling wine in 2008 with their 2005 vintage Brut. L'Acadie vineyards produces a range of Traditional Method sparklers, but the winemaker's favourite is his Prestige Brut Estate; made with L'Acadie Blanc grapes harvested from his ancient seabed estate vineyard and spends 5 years in tirage gaining complexity. It is a true expression of terroir. Like many others, this winemaker enjoys a glass of bubbly with oysters. He admits to having a delicious time investigating many unique maritime oyster terroirs to match his wines. The conclusion: saltier oysters pair really well with longer en tirage sparkling.
Around the same time that Bruce Ewert was introducing us to the glamorous side of L'Acadie Blanc, a team of winemakers and consultants at Benjamin Bridge winery were working with Raphael Brisbois, former chef de cave at Piper Heidsieck, on their own sparkling wine project. Benjamin Bridge released their first vintage Traditional Method sparkling wines in 2010 from the 2004 vintage. Since then, there has been no turning back, and other wineries have followed suite. Blomidon Estate Winery, Avondale Sky Winery, and Lightfoot & Wolfville all produce serious Traditional Method sparkling wines that have all garnered national and international attention. They have won awards in blind tasting competitions for major wine publications such as Decanter.
Simon Rafuse, winemaker at Blomidon Estate Winery, has made an array of award winning sparkling wines over the years. His personal favourite was the 2009 Cuvee L'Acadie. He says: "In a cool year, sparkling L'Acadie can really shine and is still a very important part of our sparkling wine portfolio." He also points out that local traditional method sparkling wines can be enjoyed upon release, but develop spectacularly with time in the bottle.
He, like so many other wine aficionados are enthusiastic about Nova Scotia sparkling wines, saying: "We just have the perfect climate here for sparkling. It's what we can do consistently well year in and year out. I love that Nova Scotians are beginning to celebrate these wines, and the rest of the country and the wine world are starting to notice too." Cheers!