Title image: A large sign welcomes visitors to the Bourgueil commune in France's Loire Valley.
The Loire Valley is France's third largest, and its most diverse, wine growing region. It stretches from the Atlantic Ocean, inland to the Auvergne. Covering 800km of agricultural and viticultural land, it is a Unesco World Heritage site and aptly known as the "Garden of France".
The region is defined by France's longest river, the Loire River, that emerges from the heart of the country within the volcanic peaks of the Massif Central. From its source, it flows north for 480km then makes a left turn and flows west for another 480 km until emptying into the Atlantic Ocean. At the extremes of the river, you find Pouilly Fume and Sancerre in the east and Muscadet in the west. In between and along the meandering river valley is a range of grapes and wine styles to please most palates. You'll find white, red, rose, sweet and sparkling wines here.
Despite the diversity of appellations, terroirs, grape varieties and wine styles, there is a distinct freshness to all Loire Valley wines making them excellent wines to pair with food. Plus, natural wine lovers have lots to choose from here as the Loire Valley has a long history of making such wines and more producers are moving in the direction of organic and biodynamic viticulture. Pioneers of biodynamics and natural wines, Nicholas Joly and Guy Bossard, were making biodynamic wines in the 1970s, long before it came to the mainstream. Their influence has spread throughout the region.
The region as a whole has a slightly cool northern climate, though subtle differences occur depending on where you are within this large region.
We can understand this complex wine region by separating it into sections along the Loire river; starting in the west on the Atlantic coast with the Lower Loire (Pays Nantais), moving inward to Middle Loire ( Anjou-Saumur-Touraine) and arriving in the eastern part of the Upper Loire (Centre)
Lower Loire
Viticulture on the windy Atlantic coast of Brittany, near the city of Nantes, dates back to the Roman era. The wine made here is Muscadet, from the Melon de Bourgogne grape- which is not related to the Muscat family of grapes.
This is the largest white wine appellation in France and produces a quintessential seafood wine; light bodied, dry and crisp. If you see "sur lies" on the bottle, it means the wine has rested for a period on the yeast lees to give it a bit more mouthfeel.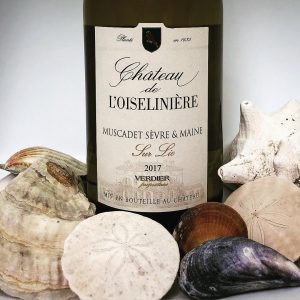 Image: A bottle of Chateau de L'Oiselineiere Muscadet ($17.50) wine sits nestled among seashells.
Middle Loire
As we move inland, the temperature is a bit more continental. The main grapes here are Chenin Blanc for white wines and Cabernet Franc for red wines. There are so many styles to enjoy here; crunchy, fruity and fresh rosé; concentrated and racy Chenin Blanc; and refreshing traditional method bubbles.
Chenin Blanc lovers can enjoy many expressions of the grape from the Vouvray appellation, but if you want a mineral and dry style, try Savennieres.
If you are looking for benchmark Cabernet Franc, you'll find it within Touraine in the appellations of Chinon and Bourgueil. There's also a little bit of Malbec to discover, locally known as Cot and good value Sauvignon Blanc.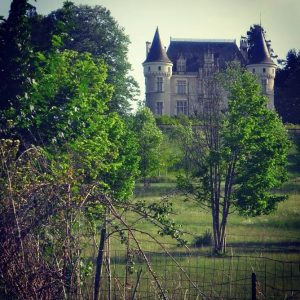 Image: Stately Chateau de Chinon in the distance. Photo: Erin Horton
Upper Loire
This is the smallest growing area, though possibly the most well known. It is here you'll find Sancerre and Pouilly Fume; the appellations producing Sauvignon Blanc grown on complex and ancient soils like Silex, limestone, oyster shells, and more. Sauvignon Blanc grown on these soils smells and tastes nothing like its New Zealand counterpart; instead these wines are floral, citrusy and subtle with that "je ne sais quoi" quality attributed to the unique terroir.
This is certainly a region worth exploring in more detail, so if you want to geek out and travel virtually to the Loire Valley, you can check out Wine Folly's excellent Loire Valley Wine Guide here for a deeper dive into the specific appellations and even more grape varieties.