2 Crows – Pollyanna IPA (473ml)
Beer Style

New England IPALeans heavily on late, dry hopping techniques to deliver a bursting juicy, tropical hop experience. Learn More

Tasting Notes

BitterDankTropical
2 Crows Brewing Co. was formed by husband and wife duo Mark and Kelly Huizink and brewmaster Jeremy Taylor. With an aim to get people thinking about craftsmanship, where their beer is coming from and the various characteristics that make beer memorable. 2 Crows has become a staple in the Nova Scotian craft beer scene, making one of the most wide arrays of beer styes in the province. From simple everyday lagers, to lush hop-bomb IPA's, smoothie fruit sours, and an impressive range of barrel aged and mixed fermentation beer. 2 Crows literally has something for everyone.
Tasting Notes
Pouring hazy deep orange and packed with heady aromas of topical fruits, citrus juice, herbs, and stone fruits. The palate is full bodied with rich flavours that mimic the aromas, a moderate carbonation and firm bitterness keep everything in check.
Method
Pollyanna is brewed with a touch of oats to give an extra creamy mouthfeel, coupled with the intense amounts of dry hopping with American hop varieties. This beer is all about huge tropical hop notes and a dense soft mouthfeel, it would all be a mess without bitterness to balance everything out – luckily there's lots of bitterness, too.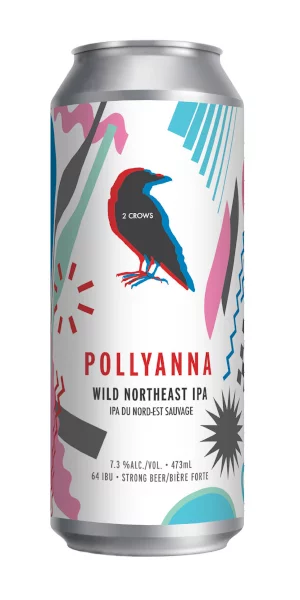 You may also like...