Armagnac Castarede VS (750ml)
Armagnac is France's oldest wine based eau-de-vie, produced in the southwest of France, with over 700 years of History. Known for its therapeutic properties during medieval times, Armagnac rose in the XVII century to become a convenience good. Around 1830, the only way to transport goods was via navigable channels, thus Armagnac trading houses started to settle near the Baïse, a tributary river of the Garonne estuary. The decree of the 25th of May 1909 outlined the production zone for the Armagnac eau-de-vie and its three regions, followed by the decree of the 6th of August 1936 which defined the 'Appellation d'Origine Contrôlée' Armagnac and its production process. Unlike Cognac, which takes its name from a town, Armagnac, is named after a local Sovereign family.
Tasting Notes
Bright amber in the glass. Pronounced dried fruit and sweet tobacco on the nose. The palate is rich and smooth. This would be a delicious addition to elevate a cocktail but is just as enjoyable on the rocks.
Method
According to quality control regulations, a VS labelled Armagnac must have at least 1 year of aging in wood. Castarede's VS ages for a minimum of 3 years in our oak casks.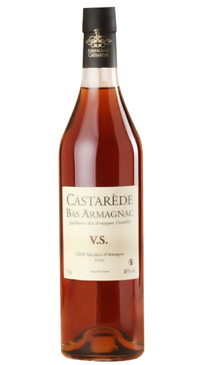 You may also like...