Benjamin Bridge Brut (750ml)
Sub-Region

Annapolis Valley
Benjamin Bridge vineyards are located in the heart of the Gaspereau Valley on the Bay of Fundy, where the cool climate bears an uncanny affinity with the Champagne region of France. The estate makes a range of wines;sparkling, white, red, rose, dry and sweet. Though the focus is on making world-class Méthode Classique sparkling wines that have been compared in tastings to Champagne. The hand crafted wines of Benjamin Bridge have helped raise the profile of the Nova Scotian wine industry.
Tasting Notes
With more than 15 years experience producing Méthode Classique sparkling wine in the Gaspereau Valley, we are confident in calling the 2011 a standout vintage. While the long growing season was cool, the regulating effects of the Bay of Fundy allowed for moderate and, slowly acquired, grape ripeness, perfect for our internationally acclaimed sparklings. This is a 100% Chardonnay aged four years on the lees and with a dosage of 9 g/L. In the glass, pale golden color with a light straw hue. On the nose, suggestions of freshly squeezed lime juice are complicated by hints of smoke and sea minerals. On the palate, notes of baked green apples and natural almonds lead to a long, invigorating finish. A wine of substantial proportion, marrying intensity and elegance.
Our Thoughts
They are without question the best sparkling wines I've tasted in Canada. – Tony Aspler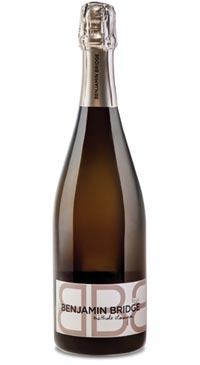 You may also like...