Benjamin Bridge Brut (750ml)
Sub-Region

Annapolis Valley
Benjamin Bridge vineyards are located in the heart of the Gaspereau Valley on the Bay of Fundy, where the cool climate bears an uncanny affinity with the Champagne region of France. The estate makes a range of wines;sparkling, white, red, rose, dry and sweet. Though the focus is on making world-class Méthode Classique sparkling wines that have been compared in tastings to Champagne. The hand crafted wines of Benjamin Bridge have helped raise the profile of the Nova Scotian wine industry.
Tasting Notes
In the glass, pale golden color with a light straw hue. On the nose, suggestions of freshly squeezed lime juice are complicated by hints of smoke and sea minerals. On the palate, notes of baked green apples and natural almonds lead to a long, invigorating finish. A wine of substantial proportion, marrying intensity and elegance.
Method
It is not only terroir that puts these wines at the level of the French prestige cuvées. Under the expert guidance of winemakers Peter J. Gamble, Jean-Benoit Deslauriers and the late Raphaël Brisbois, Benjamin Bridge sparklings are made in the laborious and time-consuming Méthode Classique, using the classic Champagne grape varieties of Chardonnay, Pinot Noir, and Pinot Meunier. The precious berries are hand-picked in small baskets, delicately pressed, and finally bottled for extended aging on their lees.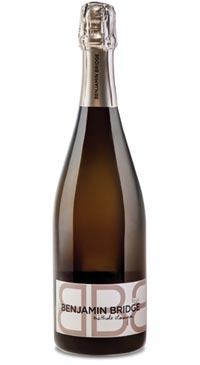 You may also like...