Benjamin Bridge Can Pet Nat (250ml)
Food Pairing

AperitifCold SaladsSpicy Foods
Benjamin Bridge vineyards are located in the heart of the Gaspereau Valley on the Bay of Fundy, where the cool climate bears an uncanny affinity with the Champagne region of France. The estate makes a range of wines;sparkling, white, red, rose, dry and sweet. Though the focus is on making world-class Méthode Classique sparkling wines that have been compared in tastings to Champagne. The hand crafted wines of Benjamin Bridge have helped raise the profile of the Nova Scotian wine industry.
A pétillant naturel is made by the méthode ancestrale, predating the méthode champenoise. A wine produced by the méthode ancestrale means that it was bottled prior to completing its fermentation, with the natural sugars and wild yeast in the grape must creating a lightly sparkling wine or "pétillant naturel" in each bottle or can. Unlike a sparkling wine made by the méthode champenoise, the resulting lees remain undisgorged and unfiltered and, therefore, the wine is perceptibly cloudy.
Tasting Notes
The nose is elegant and inviting with floral aromas interlaced with hints of citrus. The palate is bright and lively with delicate suggestions of grapefruit rind. Brisk and refreshing, like a cool coastal breeze.
Chill a can upright to keep sediment settled at the bottom. While perfectly food versatile, this is a wine crafted for fun and active experiences, like a summer's hike or game night. Sip a refreshingly cooled can or pour it into a glass at an angle to leave most sediment in can.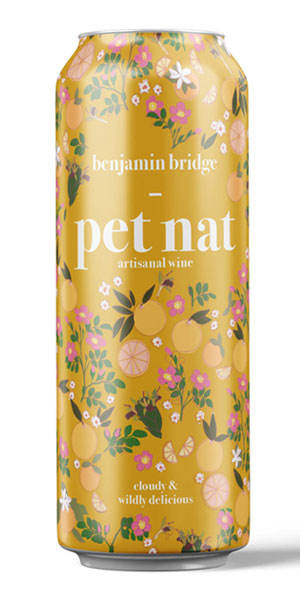 You may also like...