Benjamin Bridge Pet Nat (750ml)
Sub-Region

Gaspereau Valley

Food Pairing

AsianCheeseSushi

Farming Method

OrganicAll of our products that are tagged with the term Organic are either organic certified or organic practicing. Learn More
Benjamin Bridge vineyards are located in the heart of the Gaspereau Valley on the Bay of Fundy, where the cool climate bears an uncanny affinity with the Champagne region of France. The estate makes a range of wines; sparkling, white, red, rose, dry and sweet. Though the focus is on making world-class Méthode Classique sparkling wines that have been compared in tastings to Champagne. The hand crafted wines of Benjamin Bridge have helped raise the profile of the Nova Scotian wine industry.
Tasting Notes
In the glass, a hazy golden colour with a flaxen hue. On the nose, hints of orange confit and kafir lime are complicated by mineral notes of crushed rocks. The palate is airy; a weightless wine once again channeling fresh suggestions of lemon zest and grapefruit oil. More exotic and tropical notes emerge on a persistent finish.
Method
With nearly 20 years of organic farming and a primary focus on low-interventions sparkling wines, it was almost inevitable that Benjamin Bridge would release Nova Scotia's first Petillant Naturel four years ago. 
These first small-lot Pet Nats were made from 100% Geisenheim and all Nova Scotian grown fruit in 750-ml, demonstrating aromatic compatibility beyond expectations.  
Pétillant Naturel is the ancestor of all sparkling wines, and most importantly, the sparkling style that is by far the least manipulated. It simply consists of a wild fermented wine with nothing added (including no sulphites), then bottled prior to completing its primary alcoholic fermentation.
Thanks to a small amount of natural sugars and the wild yeast from the grapes present, the fermentation finishes inside every bottle.
The result is a raw and living wine that is perceptibly cloudy and hazy when poured. This cloudiness comes from fermentation sediments and is a quality marker of this natural style, serving as a testament to the absence of unnecessary processing interventions.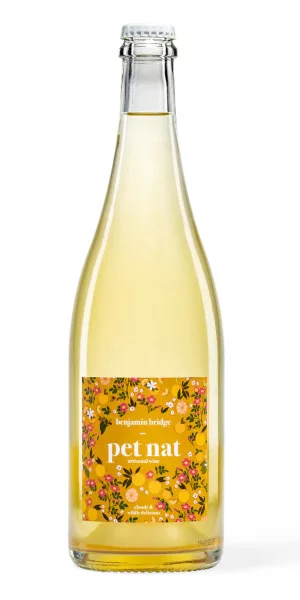 You may also like...