Benjamin Bridge Piquette Zero (Non-Alcoholic) (250ml)
Sub-Region

Gaspereau Valley

Food Pairing

AperitifBBQCold Salads

Farming Method

OrganicAll of our products that are tagged with the term Organic are either organic certified or organic practicing. Learn More
Benjamin Bridge vineyards are located in the heart of the Gaspereau Valley on the Bay of Fundy, where the cool climate bears an uncanny affinity with the Champagne region of France. The estate makes a range of wines;sparkling, white, red, rose, dry and sweet. Though the focus is on making world-class Méthode Classique sparkling wines that have been compared in tastings to Champagne. The hand crafted wines of Benjamin Bridge have helped raise the profile of the Nova Scotian wine industry.
Tasting Notes
In the glass, a scintillating golden sapphire colour with a blond hue. The nose is vibrantly aromatic, with zesty suggestions of bergamot, key lime, yuzu, blood orange peel and lemon preserve. The palate is equally vivacious and channeling a citrus grove, yet combined with delicate fruit bitter undertones and the balancing texture of tart cherries. Not identical to wine, this new sensory experience is to be discovered for its own unique deliciousness. Non-alcoholic.
Method
Piquette Zero is a lively and delicious alcohol-free wine-style beverage, offering a creative and unprecedented craft option to industrially dealcoholized wines that are so often stripped of their character.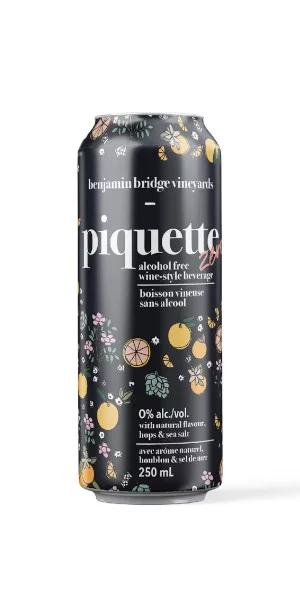 You may also like...