Black Stallion Napa Cabernet Sauvignon (750ml)
Farming Method

ConventionalMost products with this label come from producers who do their best to avoid any intervention at all but it's possible that some of the aforementioned preventative measures and additions are deemed necessary. Learn More
More than a century ago, Gaspare and Caterina Indelicato immigrated from Sicily to the United States. With little to draw on but a long family history of grape growing and an entrepreneur's gift for seizing opportunity, Gaspare entered the wine trade by planting a single vineyard in 1924 in Manteca, California, where the climate reminded the couple of their homeland.
Occupying a privileged position at the southern foot of the trail, the winery grounds eventually became the site of the Silverado Western Center, a major equestrian center that opened in September 1963. The original riding area now houses prized wines, instead of prize-winning horses. However Black Stallion Estate Winery carries its heritage forward. The estate's legacy honors the world-class terroir of Napa Valley, the pioneering spirit of the Silverado Trail, and the Indelicato family's warm hospitality and generations of wine expertise. Since that first vineyard flourished, Gaspare's children, grandchildren and great-grandchildren have honored his legacy through dedication to his steadfast values of family, hard work and integrity. Black Stallion Estate Winery is located in the Oak Knoll district of Napa Valley. The winery focuses on small lot blends of Napa Valley fruit.
Tasting Notes
Pronounced aromas of mulberries, plums, cedar, cinnamon, cloves and vanilla. Medium to full-bodied with fine, firm tannins and vivid acidity. Well structured, with lots of fruity character, a creamy texture and chewy finish. Great persistence. Pairs well with wine braised beef short ribs, leg of lamb, or portobello mushroom burgers.
Method
With the goal of making great wine, the winemaker at Black Stallion follows the growth of the vines and grapes all year long.  The fruit is harvested and sorted by hand hand.  Each lot of grapes that arrives at harvest is treated individually, and receives a unique upbringing to bring out its full potential for excellence. Once crushed at the winery, micro-lots may be fermented in small tanks made of wood, concrete or steel. These choices of aging vessel give winemaker Ralf Holdenried exceptional flexibility to match a batch of grapes with the material best suited to bring out its greatness—key in a region as diverse as Napa Valley.  After fermentation, wine is drained using gravity (not pumps) and aged in the finest oak barrels for about 18 months. The gentle handling of the wine prevents the extraction of harsh components that could impart bitterness.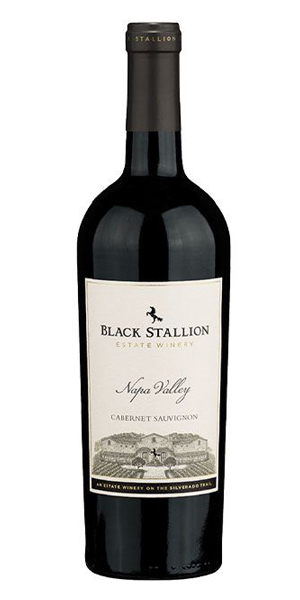 You may also like...
Express Shipping!
For select shipping postal codes, this product may be eligible for Express Delivery! Click here to learn more.