Black Stallion Napa Cabernet Sauvignon (750ml)
Twelve years after arriving immigrating from Sicily to America, in 1924, Gaspare Indelicato planted a vineyard in Manteca, California. With it, he planted the foundation of his eventual success in the California wine trade. Since that first vineyard flourished, Gaspare's children, grandchildren and great-grandchildren have honored his legacy through dedication to his steadfast values of family, hard work and integrity. Black Stallion Estate Winery is located in the Oak Knoll district of Napa Valley. The winery focuses on small lot blends of Napa Valley fruit.
Tasting Notes
This Cabernet Sauvignon boasts deep cherry and plum flavour with elegant supple tannins.
Method
With the goal of making great wine, the winemaker at Black Stallion follows the growth of the vines and grapes all year long.  The fruit is harvested and sorted by hand hand.  Each lot of grapes that arrives at harvest is treated individually, and receives a unique upbringing to bring out its full potential for excellence. Once crushed at the winery, micro-lots may be fermented in small tanks made of wood, concrete or steel. These choices of aging vessel give winemaker Ralf Holdenried exceptional flexibility to match a batch of grapes with the material best suited to bring out its greatness—key in a region as diverse as Napa Valley.  After fermentation, wine is drained using gravity (not pumps) and aged in the finest oak barrels for about 18 months. The gentle handling of the wine prevents the extraction of harsh components that could impart bitterness.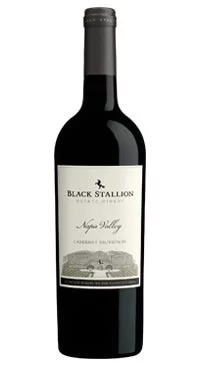 You may also like...