Big Flower Cabernet Sauvignon (750ml)
Food Pairing

CheeseGameRed Meat
Ginny Povall was born and raised in Boston, Massachusetts and began making wine at home as a hobby. She eventually made her way to South Africa to pursue her passion to make wine on a larger scale and she planted vines on Protea Heights Farm, located in Devon Valley, about 10 minutes outside the center of Stellenbosch. Back in the 1940s, this was the first farm in South Africa to grow protea flowers, which is the country's national flower and Ginny decided to dedicate a fraction of her property to protea cultivation.
Protea Heights Farm, home of Botanica Wines, is committed to the principles of regenerative agriculture, a next generation system of organic farming that increases soil fertility, builds biodiversity, improves soil's water holding capacity and enhances our ecosystem to support healthy vineyards and fields. Key to this agroecological approach is no-till farming, a practice which aims to capture carbon in the soil and aboveground biomass, reversing current trends of atmospheric accumulation in an effort to slow climate change. At the same time, it offers increased yields, reduced disease pressure, greater resilience to drought and climate instability, and higher health and vitality for soils.
Tasting Notes
Juicy dark fruit, hints of tobacco, bitter-sweet chocolate. Softly textured with fine tannins make it an easily approachable and equally delicious Cabernet Sauvignon.
Method
The Protea Heights vineyards were established in 2009 and 2010, with high density plantings ranging from 5,600 – 10,100 vines per hectare. They are positioned primarily on cooler south to southeast facing slopes, at an altitude ranging from 200 to 250 meters above sea level. Cooling afternoon breezes from False Bay provide natural air conditioning for the vineyards during the warm summer months, cooling the temperatures by an average 10+ degrees. The vineyards were converted to organic farming practices in 2014. South Africa boasts some of the oldest viticultural soils in the world, with an incredible diversity of soil types, often within small areas. On Protea Heights, the vineyard soils are predominantly Oakleaf and Tukulu, both forms of decomposed granite with high clay content. There is also pockets of Dresden, a sandstone-derived soil, characterized by sandy clay loams, and Vilafonte, a gravelly soil derived from shale.
The Big Flower range is crafted 100% from grapes grown at Protea Heights, Botanica's organically farmed estate vineyard in Devon Valley, Stellenbosch, where the terroir is particularly well-suited to Bordeaux varietals. The floral labels pay tribute to our heritage as South Africa's first commercial flower farm.
The grapes come from a young, high-density vineyard on Ginny Povall's farm. There are four separate plots of Cabernet Sauvignon, all with different soil types and exposure to the sun. The wine is comprised of a blend of Cabernet Sauvignon (86%) and Petit Verdot (14%). The grapes are harvested by hand and taken to the winery in small containers. The bunches are destemmed and then the must is fermented in open-top fermenters with hand punch-downs and no mechanical pumping over. The skins are lightly pressed and the press wine added back to the cuvee before it is transferred to barrel. The barrels are all old and a mixture of 225 and 300 litres in size. The wine is kept in barrel for nine months before being bottled.
Our Thoughts
Originally a flower farm which was replanted with vines about 10 years ago. This Cabernet Sauvignon has voluptuous dark berry fruit, with hints of tobacco, chocolate and maybe even a slight minty-ness. I used this in my wine class for a blind tasting and it was a true representation of the Cab grape. The little bit of South African earthiness did throw a few people off. However, I liked the added complexity and thought that it was a good balance to the fruit and the oak. This is medium to full bodied and it would be perfect with anything on the BBQ!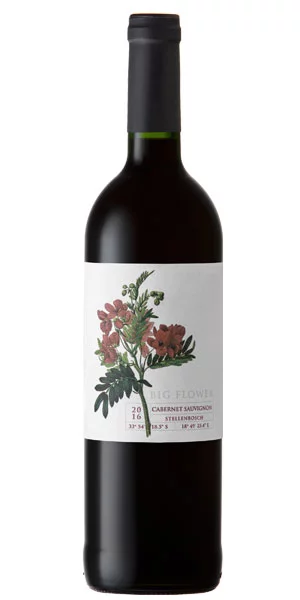 You may also like...