Big Flower Cabernet Sauvignon (750ml)
Farming Method

OrganicAll of our products that are tagged with the term Organic are either organic certified or organic practicing. Learn More

Food Pairing

CheeseGameRed Meat
Ginny Povall was born and raised in Boston, Massachusetts and began making wine at home as a hobby. She eventually made her way to South Africa to pursue her passion to make wine on a larger scale and she planted vines on Protea Heights Farm, located in Devon Valley, about 10 minutes outside the center of Stellenbosch. Back in the 1940s, this was the first farm in South Africa to grow protea flowers, which is the country's national flower and Ginny decided to dedicate a fraction of her property to protea cultivation.
Ginny arrived in the Cape back in 2008 with some basic knowledge of winemaking through evening and weekend courses at the University of California and plentiful background reading. Winning Platter 5 Stars from the outset and having to adapt to South African winemaking practices, she really has hit the ground running! The vineyards were freshly planted in 2009 and 2010 and her winery just now coming into steady production and from her inaugural vintage, she has garnered well deserved attention. She practices sustainable viticulture and minimal intervention throughout the winemaking process. The Botanica range of wines have as much personality as their vibrant and charming winemaker.
Tasting Notes
The wine has a deep plum colour with a delicious blend of blackcurrant, tobacco and fennel notes on the nose. On the palate this opulent wine has a balanced acidity that is supported
by layers of blackcurrant and plum. The palate is rounded off by firm tannins. Pair this with a variety of aged cheese, roast meats or game.
Method
The grapes come from a young, high-density vineyard on Ginny Povall's farm. There are four separate plots of Cabernet Sauvignon, all with different soil types and exposure to the sun. The wine is comprised of a blend of Cabernet Sauvignon (86%) and Petit Verdot (14%). The grapes are harvested by hand and taken to the winery in small containers. The bunches are destemmed and then the must is fermented in open-top fermenters with hand punch-downs and no mechanical pumping over. The skins are lightly pressed and the press wine added back to the cuvee before it is transferred to barrel. The barrels are all old and a mixture of 225 and 300 litres in size. The wine ages for about 11 months in barrel before bottling.
Our Thoughts
Originally a flower farm which was replanted with vines about 10 years ago. This Cabernet Sauvignon has voluptuous dark berry fruit, with hints of tobacco, chocolate and maybe even a slight minty-ness. I used this in my wine class for a blind tasting and it was a true representation of the Cab grape. The little bit of South African earthiness did throw a few people off. However, I liked the added complexity and thought that it was a good balance to the fruit and the oak. This is medium to full bodied and it would be perfect with anything on the BBQ!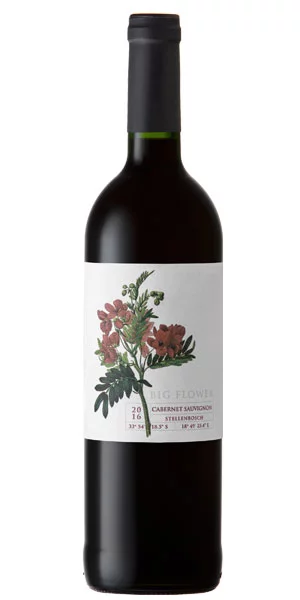 You may also like...