NS Spirit Co. – Blue Lobster Pink Lemonade (473ml)
Tasting Notes

FruityOff-Dryrefreshing
Inspired by and made for Nova Scotia's culture of kitchen parties, storytelling, good times with friends and family, and that laidback Maritime lifestyle; founded in 2015 in Pictou County, Nova Scotia Spirit Co. focuses on producing quality, small-batch spirits at an everyday price.
Their core lineup of spirits; Fisherman's Helper Rum, Willing to Learn Gin, and Blue Lobster Vodka were all inspired by an ad found on the door of the building that would eventually house the distillery: Commercial lobster fisherman from Ballantyne's Cove Antigonish County is looking to hire a fisherman's helper for the summer. Basic requirements: sober, alert, willing to learn.
Tasting Notes
Blue Lobster Vodka Soda Pink Lemonade has been years in the making. This cocktail is a classic for a reason. While packing the punch of freshly squeezed lemonade, this refreshing sweet and sour blend of strawberries, cranberries, and lemons is sure to quench any thirst!
Method
Proudly made with 100% Nova Scotia water, this riff on the non-alcoholic drink is destined to become a Nova Scotian classic. Other ingredients include carbonated water, Blue Lobster Vodka, Sugars (fruit juice, sugar), Natural flavours, and Citric acid.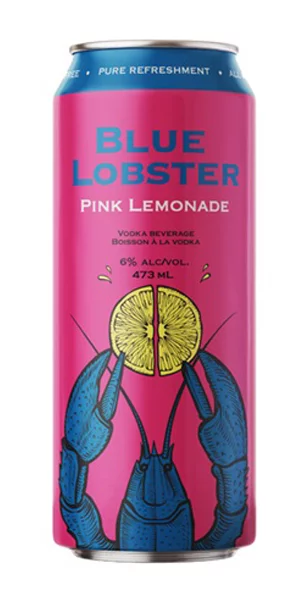 You may also like...
Express Shipping!
For select shipping postal codes, this product may be eligible for Express Delivery! Click here to learn more.