Brigaldara Recioto (375ml)
Food Pairing

CheeseChocolate

Grape

CorvinaCorvinoneRondinella
The Brigaldara winery is located just outside the town of San Floriano, in the heart of the Valpolicella region, north of Verona. It is at the entrance of the Marano valley, one of the four valleys that make up Valpolicella's classical area, the original and oldest wine production area of the region. The name Brigaldara appears for the first time in a notary deed dated 1260. In 1929, the Cesari family acquired the villa with the surrounding land. Up to 1979, Brigaldara did not make its own wine and sold most of the grapes it harvested. In the early 1990's the family began to acquire more land for vineyards in the area and started producing their own wine.
Tasting Notes
Intense red ruby loaded with mocha, black cherries, plums, espresso and spices. The intense fruit is nicely balanced by an underlying energy and focus. Sweet perfumed notes wrap around the long, satisfying finish.
Method
Recioto della Valpolicella is a special wine in the Valpolicella family of wines.  Bridaldara's is a blend of Corvina 55%, Corvinone 25%, Rondinella 20%.  The vines are trained in the aditional Pergola Veronese style.   Grapes are hand harvested mid to late October and the best ones are placed on crates and put into the fruit drying lofts (like in Amarone della Valpolicella production).  Once the grapes have raisinated enough, they are crushed and fermentation begins via natural ambient yeasts. After the desired sugar / alcohol balance has been reached, the wine is moved to 25 hl oak barrels to age for two years.  The final alcohol content in 14.5% making for a rich and bold red, or as Italians would say "un vino da meditazione".  
Recioto is produced only in the best years when the appassimento and natural fermentation procedures are able to reach a level of quality which is high enough to meet the standards which the tradition of this product requires.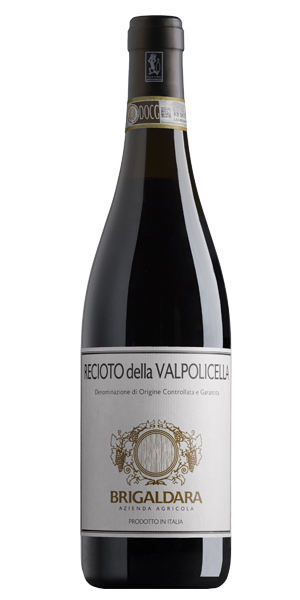 You may also like...