Caparzo Rosso di Montalcino (750ml)
Food Pairing

CharcuteriePasta Dishes
Caparzo was established towards the end of the 1960's. The vineyards of the Caparzo Estate include about. 90 hectares (210 acres) in Montalcino. The estate is located on a hillside area 220 metres above sea level, facing south and south-east. The company has grown and adapted with the times all while maintaining and respecting the traditions of the terroir. The rustic and elegant Caparzo villa, La Casa, located at the bottom of Montalcino is available for rent for those who want to fully experience the beauty and tranquillity of the Tuscan countryside.
Tasting Notes
Ruby red in the glass with a pervasive bouquet. Generous aromas of raspberry and pomegranate, a touch of oak with hints of violet. The wine is dry with well balanced fruit, acid and tannin.
Method
Rosso di Montalcino is made from 100% Sangiovese and is essentially a "second wine" for the "grande vino" Brunello di Montalcino.  The zone of production for Rosso di Montalcino is the same as for Brunello and producers can declassify Brunello to Rosso di Montalcino should they wish.  The wine is released after September 1st the year following the harvest and there is no mandatory oak ageing requirement.  This is a youthful, lighter and fruitier wine style from this famed region.  Rosso di Montalcino is more approachable and less expensive than Brunello.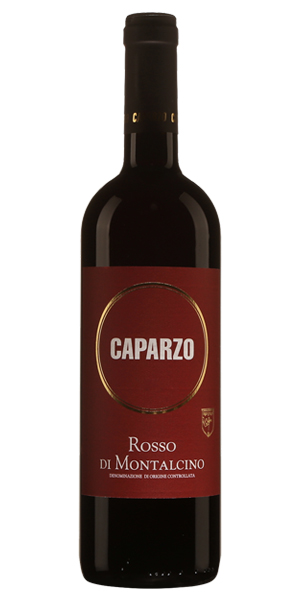 You may also like...