Chimay – Red (Dubbel) (330ml)
Beer Category

Amber BeerTrappist/Abbey

Beer Style

Belgian Dubbel"Dubbel" meaning "double," this beer is still not so big in intensity as to surpass the Belgian-style quadrupel that is often considered its sibling. Learn More

Tasting Notes

ComplexMaltySmooth
Chimay is the name of the Trappist brewery* that produces beer within the Scourmont abbey, 1km from the French border, and they have been brewing beer since 1862. Losing their copper brewing kettles to the Nazis during the war, the brewery had to restart over, but have since become arguably the most well-known Trappist brewery in the world. Like most Trappist breweries, Chimay has a house yeast culture, some may call a "super-yeast" that can produce exceptionally complex, and elegant styles of beer.
*The term Trappist Brewery relates to beer made within the walls of a Trappist abbey, where the brewing is performed by, or under the supervision of Cistercian monks. There are only a handful of legally defined Trappist breweries in the world.
Tasting Notes
Copper coloured, with creamy long lasting head. Aromas of milk chocolate, apricots, brown bread, and floral spice lead into an exceptionally smooth palate with Champagne-like carbonation. Belgian Dubbel is without question one of the most enjoyable food pairing styles you can find! Serve chilled, but not fridge cold.
Method
Red is Chimay's flagship beer, as it was the first beer to be brewed in the abbey. Bottle conditioned for 21 days before release, giving the finished beer an effervescent mouthfeel. Father Theodore cultured and developed the yeast strain in the 1940s helping to create the profile all Chimay beers are known for today. Daily testing and tasting are performed at Chimay to ensure exceptional consistency.
Our Thoughts
From the first taste, I knew that Chimay Red would always be one of my staple beers. Smooth and bready with just a hint of molasses, this Belgian Dubbel is an easy sipper and perfect for crisp days in a beer garden or a cozy night in.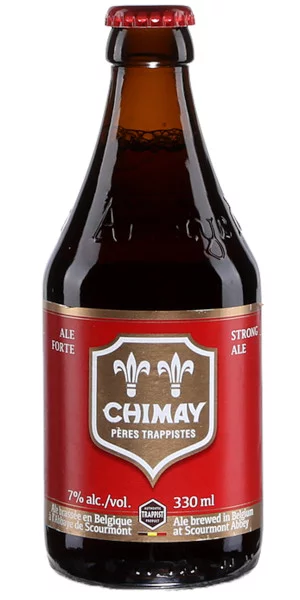 You may also like...