Colliding Tides – Gin Twist Gin Soda 6pk (2130ml)
Region

Prince Edward Island

Tasting Notes

CitrusDryherbal
There's this wild phenomenon that happens off PEI's East Point and North Cape twice a day. Two tides blend together in a mixture of Nature's making. It's what inspired the folks at Prince Edward Island Brewing Company to create this small batch craft cocktail series.

Tasting Notes
A perfect mixture of PEI gin and citrus, it has just the right amount of sweetness and carbonation. Herbal and citrus aromas mingle with light and refreshing mouthfeel and a slightly off-dry finish.
Method
Colliding Tides is made with Gin from PEI, and blended with citrus juice and carbonated water. A 355ml can has 155 calories, and 13g of sugar.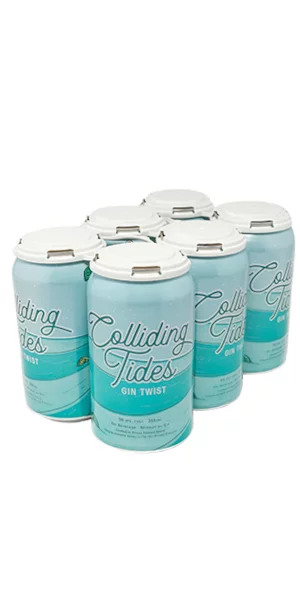 You may also like...
Express Shipping!
For select shipping postal codes, this product may be eligible for Express Delivery! Click here to learn more.