Croft Vintage Port 2000 375ml (375ml)
Food Pairing

CheeseDessert
The Croft Port house was established in 1588 and is the oldest firm operating in Oporto today. The company is renowned for its range of Port styles; vintage, wood aged reserves and tawnies.
Tasting Notes
An opaque core with limpid ruby rim. The nose is very dense, much more introverted than the nineties Crofts and the alcohol more integrated into bouquet. The palate is full-bodied, very firm in structure with a little more austerity than usual. Very good delineation although it does not quite have the exuberance or the flamboyance of the vivacious '94. Conservative and foursquare towards the finish with an attractive hint of blood orange on the aftertaste. Good length.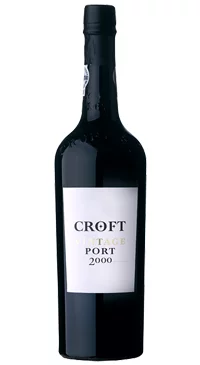 You may also like...