Croft Vintage Port 2000 375ml (375ml)
Food Pairing

CheeseDessert
Croft is one of the most distinguished of all Port houses. Founded in 1588, it is the oldest firm still active today as a Port wine producer. The company is a family run winery renowned above all for its Vintage Ports as well as for its range of wood aged reserves and tawnies, time-honoured styles refined by skill and experience passed down through the generations.
In spite of its rich heritage and history spanning over four centuries, Croft has never been constrained by tradition. Behind every great wine producer is a great vineyard. The cornerstone of Croft's distinctive house style is the famous Quinta da Roêda, described as the jewel of Port wine estates. The wines of this magnificent property, which contains some of the oldest vineyards in the Douro Valley, are the heart of Croft's Vintage Port blend.
Tasting Notes
An opaque core with limpid ruby rim. The nose is very dense, much more introverted than the nineties Crofts and the alcohol more integrated into bouquet. The palate is full-bodied, very firm in structure with a little more austerity than usual. Very good delineation although it does not quite have the exuberance or the flamboyance of the vivacious '94. Conservative and foursquare towards the finish with an attractive hint of blood orange on the aftertaste. Good length.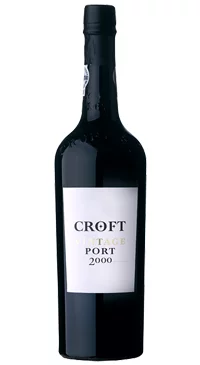 You may also like...