Croft Vintage Port 2000 (750ml)
Grape

Tinta RorizTouriga FrancaTouriga Nacional

Farming Method

ConventionalMost products with this label come from producers who do their best to avoid any intervention at all but it's possible that some of the aforementioned preventative measures and additions are deemed necessary. Learn More

Food Pairing

DigestifChocolateDessert
Croft is one of the most distinguished of all Port houses. Founded in 1588, it is the oldest firm still active today as a Port wine producer. The company is a family run winery renowned above all for its Vintage Ports as well as for its range of wood aged reserves and tawnies, time-honoured styles refined by skill and experience passed down through the generations.
In spite of its rich heritage and history spanning over four centuries, Croft has never been constrained by tradition. Behind every great wine producer is a great vineyard. The cornerstone of Croft's distinctive house style is the famous Quinta da Roêda, described as the jewel of Port wine estates. The wines of this magnificent property, which contains some of the oldest vineyards in the Douro Valley, are the heart of Croft's Vintage Port blend.
Tasting Notes
The 2000 is a harmonious Port. Very grapey, with notes of tar and dried roses. Medium-bodied, medium sweet, with silky tannins and a medium finish.
Method
Vintage Ports are made exclusively from the grapes of one harvest. Bottled after two years in casks, it is in the bottle that the long, slow, ageing process transforms the young wine into a magnificent Vintage Port. A Croft Vintage is only declared in years of optimum quality. These demanding standards mean that a Croft Vintage might be declared perhaps only two or three times in a decade.   
This is a classic blend of Tinta Roriz,Touriga Franca and Touriga Nacional.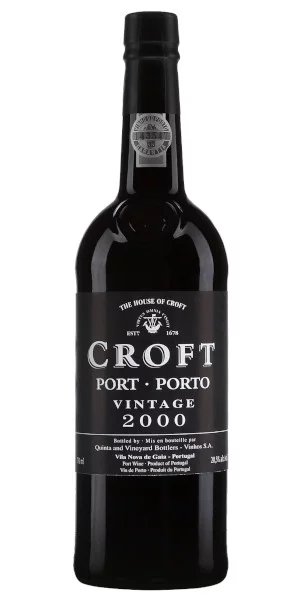 You may also like...