Dillon's Distillery – Blackberry Lemon Elderflower Seltzer (355ml)
Sub-Region

Beamsville Bench

Tasting Notes

DryFruityrefreshing
Established in 2012, Dillon's Small Batch Distillers has quickly cemented themselves as one of Canada's premier craft distilleries. Producing a wide range of products from Gin, Vodka, Rye Whiskey, Pre-made Cocktails, canned Seltzers, and even bitters. Dillon's sources much of their raw ingredients directly from Ontario and the Niagara region as much as possible, supporting local farmers and fruit growers from around the region. Winning national and international awards, it's no wonder they are one of the hottest distilleries in Canada.
Tasting Notes
Dillon's crafts high-quality spirits out of Beamsville, Ontario, with a focus on experimentation and innovation. Their newest creation is a not-too-sweet, canned cocktail, which blends aromatic Dillon's Gin with juicy flavours of ripe black berry, bright notes of lemon zest, and a subtle dash of elderflower.
Method
The base spirit, Dillon's Dry Gin that's made in a traditional dry style, made by vapour distilling through juniper and other botanicals. This classic gin is made from a base of 100% Ontario rye grain. Natural flavours of blackberry, lemon, and elderflower were added to help beautifully balance the herbal gin notes.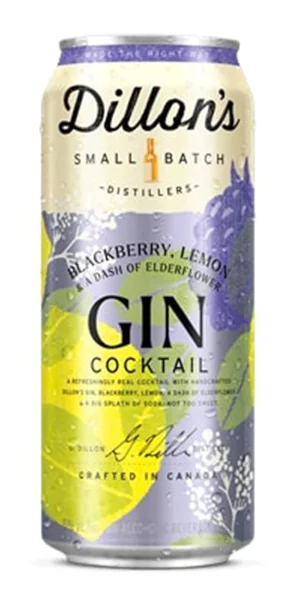 You may also like...
Express Shipping!
For select shipping postal codes, this product may be eligible for Express Delivery! Click here to learn more.