Verhaeghe Brewery – Duchesse de Bourgogne (330ml)
Beer Category

Amber BeerSour Beer

Beer Style

Flanders RedInoculated with souring bacteria then aged in large white oak barrels for months and/or years to produce an elegant, wine-like style of beer. Learn More

Tasting Notes

ComplexDark ChocolateTart
Brewery Verhaeghe is the brewery that produces Duchesse de Bourgogne. They are a small family-owned brewery in the southwest of West Flanders, Belgium. The history of the brewery dates back to 1885.
The Verhaeghe brewery follows one simple rule: do a little less, but do it better. At home in Belgium but also across the globe, beer consumers tend to gravitate more and more towards high quality, unique beers. The flagship beer 'Duchesse de Bourgogne' is living proof of this philosophy. This popular red-brown west-flemish ale is brewed according to traditional wild yeast fermentation that this region in Belgium is famous for and additionally matured in oak casks for 8-18 months to ensure the unmistakable full flavour of 'the Duchesse'.
Tasting Notes
Duchesse de Bourgogne is a beer for wine drinkers. The nose has gentle red-wine like aromas, sour cherries, earthy barnyard, and soft toasty oak. The palate is medium-bodied and soft boasting a rich soil and cocoa element quickly followed by a surge of tart cherries and apple peels that finishes complex and dry. A beer to ponder and enjoy.
Method
Flanders red ale is fermented with organisms other than regular ale yeasts, especially Lactobacillus, which produces a sour character attributable to lactic acid. Long periods of aging are employed, a year or more, often in oak barrels, to impart a lactic acid character to the beer. Amber malts are used to give the beer its colour and the matured beer is often blended with a younger batch before bottling to balance and round the character.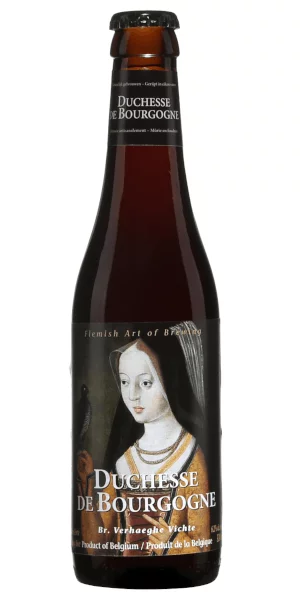 You may also like...