Fairweather Brewing – High Grade IPA (473ml)
Beer Style

New England IPALeans heavily on late, dry hopping techniques to deliver a bursting juicy, tropical hop experience. Learn More

Tasting Notes

BitterDankJuicy
After a few incidents of fate and circumstance, Fairweather opened its doors in May 2017. The brewery is home in a revitalized warehouse in west Hamilton's Ainslie Wood neighbourhood. In addition to a taproom and bottle shop, they have a 60 seat patio, and a 10,000 square foot production facility which doubles as an event space.
Whether the brewers area exploring bright hoppy IPAs, rich, silky stouts and porters, elegant, classic continental lagers, or fruited and oak-aged beers that explore the edges of what beer can be, Fairweather will never be satisfied. They will tirelessly strive to create the best beer you will find anywhere. Period.
Tasting Notes
High Grade IPA delivers both the intense hop-forward aroma that you'd expect from a New England IPA, but also comes in on the palate with a decidedly bitter quality to cut through the rich notes of mango, pineapple, nectarine, and peach. This isn't one of those soft, not that bitter NEIPA's, this one has some ommph. Very refreshing, balanced, clean, and bitter!
Method
Emphasizing hop aroma and flavour without bracing too much bitterness, the New England IPA leans heavily on late and dry hopping techniques to deliver a bursting juicy, tropical hop experience. The skillful balance of technique and ingredient selection, often including the addition of wheat or oats, lends an alluring haze to this popular take on the American IPA.
High Grade IPA is brewed with flaked oats for added texture, and a heaping portion of Simcoe, Idaho 7, Citra & Mosaic hops. Hops that are all known to deliver exceptional flavours and aromas for the IPA style.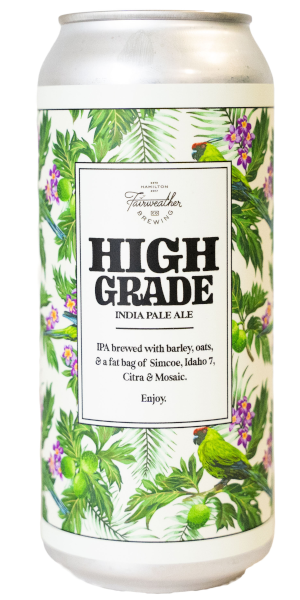 You may also like...