Grand Pre Pomme D'Or (375ml)
Farming Method

ConventionalMost products with this label come from producers who do their best to avoid any intervention at all but it's possible that some of the aforementioned preventative measures and additions are deemed necessary. Learn More

Food Pairing

CheeseChocolateDessert
Domaine de Grand Pré makes polished and elegant Nova Scotian wines. The Domaine is known for its crisp and clean flavour profile and they pride themselves in using only 100 per cent Nova Scotian grown grapes. They grow specialty grapes that were developed for the Nova Scotian climate and landscape and the resulting wines wine awards year after year.
Tasting Notes
Made from old and new apple varieties grown locally in the Annapolis Valley. The wine displays complex notes of baked apple, apricot and caramel, with a long, sweet finish of preserves. Delicious with apple crisp and apple pie or as an accompaniment to a cheese plate.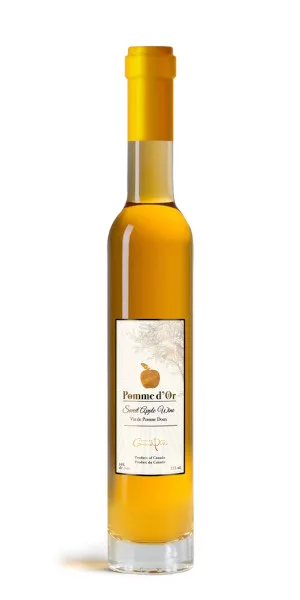 You may also like...