Tasting Notes

Dried fruitNutsWood
Located in the heart of the Grande Champagne, the premium wine growing area of the Cognac region, in the Charentes department Southwest France. The house of Hine has been producing Cognac for six generations. The estate boasts an exceptional 173 acres of vineyards, and the house has a welcome tradition of producing relatively small quantities but with very high standards of quality.
Today, under the watchful eye of sixth-generation member Bernard Hine, a dedicated team of thirty people strive to preserve 256 years of tradition while keeping pace with the modern market. The blending of vintages and crus is fundamental, as it guarantees the Hine's distinct mode of expression throughout the product range year-after-year.

Tasting Notes
The Hine Rare VSOP is a classic expression of Hine and a benchmark for the entire collection of their cognacs. It reinterprets the fruity flavours characteristic of wines produced from Charente vines, particularly from the Grande and Petite Champagne areas. The result is a Cognac with sweet pear, marmalade, and candied ginger in addition to exquisite depth from wood ageing with layers of walnut, milk chocolate, freshly toasted bread and blonde tobacco on the finish.
Method
The Rare VSOP is a blend of 20-25 eaux-de-vie from Grande and Petite Champagne grown grapes.  Hine Rare VSOP is classed as Fine Champagne, meaning that the eaux-de-vie used are all from the Grande or Petite Champagne areas, with at least 50% from Grande Champagne. The cognac is twice distilled in direct-fired Charentais pot stills and Hine always distills on the lees for added creaminess and complexity. The cognac is aged from between 6 and 12 years in medium-fine grain oak from the Troncais and Limousin forests, with most being aged about 8 years.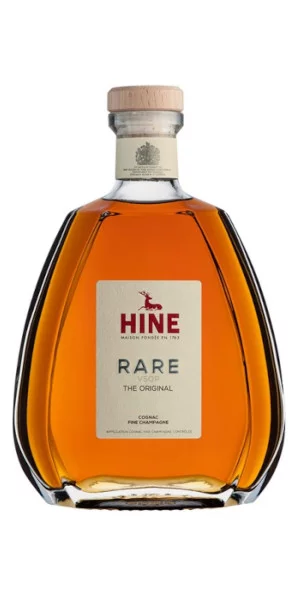 You may also like...