La Bella Prosecco (750ml)
Region

Friuli Venezia Giulia

Food Pairing

Fish & ChipsSoft CheeseAntipasti

Farming Method

ConventionalMost products with this label come from producers who do their best to avoid any intervention at all but it's possible that some of the aforementioned preventative measures and additions are deemed necessary. Learn More
La Bella Prosecco is a brand of La Delizia. La Delizia was established in 1931 as a Cantina Sociale Cooperativa. Today, Viticoltori Friulani La Delizia is the largest wine-making facility of the Region Friuli Venezia Giulia. The production area includes a wide surface on the plain of the Friuli region, a land well-known for its profound winemaking expertise, the nature of the soil and the particularly mild climate have contributed to create the best conditions for grape growing.
Prosecco can be produced in Friuli in addition to Veneto. In fact the town by the name of Prosecco is located in Friuli. Prosecco is an an interregional appellation shared with the more famous Prosecco producing region of Veneto. These areas are rich in history and have a strong wine-growing tradition; Prosecco consumption and production has increased over the years and brands like La Bella produce classic and affordable versions of this beloved Italian sparkling wine.
Tasting Notes
Citrus, floral and tropical notes. The palate is lively with green apple and vibrant pineapple flavours. Well balanced, fresh and delicious with just a whisper of sweetness making this an ideal Prosecco to pair with salty snacks and spicy foods. It makes an affordable and crowd pleasing bubbly for those occasions you want to toast to.
Method
Made from Glera grapes with a second fermentation happening via tank method (Charmat method).   This is an Extra Dry style Prosecco, meaning that it is a little sweeter than a Brut and shows great balance on the palate.  In fact, Extra Dry Prosecco is considered to be the more traditional and classic style of Prosecco.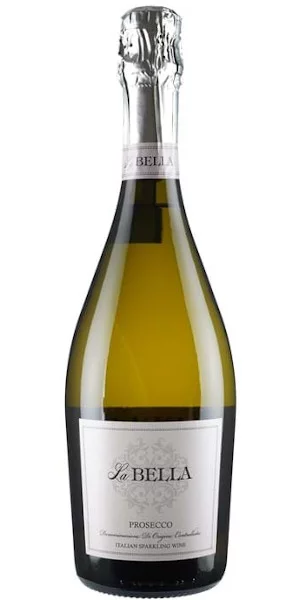 You may also like...