Lake City – Crisp Apple Cider 355ml Cans 6pk (2130ml)
Tasting Notes

BalancedCrispDry
Dartmouth is the foundation upon which Lake City Cider is built. They're proud Darksiders – they've grown here, played here, lived here and loved here and they wouldn't have it any other way. They've seen how Dartmouth has changed and they've changed with it. And they're honoured to make quality local cider right on Portland Street with as much character and joy as the city we love.
Tasting Notes
*The cider formally known as District 5* This is the exact same cider as before.
Evoking memories of the lapping waves of Lake Banook and feathered friends at Sullivan's Pond, this cider is crafted to be as true and steady as the people who make up the heart and soul of Dartmouth. Refreshing and dry, with subtle floral and honeyed apple notes.

Method
6.0% ABV. A crisp and clean cider fashioned from a special selection of freshly-pressed Nova Scotian apples. Crisp Apple boasts a taste as familiar and vibrant as the area its named after. Fermented Dry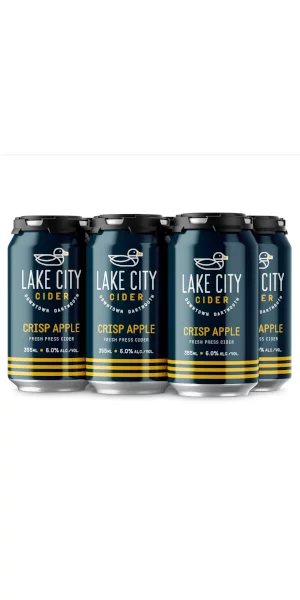 You may also like...
Express Shipping!
For select shipping postal codes, this product may be eligible for Express Delivery! Click here to learn more.