Lapierre Raisins Gaulois (750ml)
Food Pairing

CharcuteriePorkPoultry

Farming Method

BiodynamicAll of our products that are tagged with the term Biodynamic are either biodynamic certified or biodynamic practicing. Learn More
Marcel Lapierre's mentor, Jules Chauvet, is the man who in the 1950's spoke out against chemical fertilization in the name of protecting "natural wine" and the traditional viticultural and winemaking methods of Beaujolais.
Throughout his career, Marcel Lapierre and a small group of other vignerons and winemakers in the region, made it their mandate to maintain the viticultural and winemaking traditions of Beaujolais. These traditional practices valued old vines, no synthetic herbicides, pesticides, late harvesting, sorting grapes and using only the healthiest, minimal or no sulphur and zero chaptalization. Marcel once said, "Our ideal is to make wine from 100% grape juice."
Marcel passed away in 2010 and now his work is carried on by his talented son Mathieu. Nobody's wines taste like Marcel Lapierre's. He is the source of a whole new school of winemaking, turning the hands of time back to wine the way Mother Nature envisioned it. Tasting it can change the way you taste wine. – Kermit Lynch
Tasting Notes
This wine has explosive and fresh aromas of red fruits and a bright juicy palate. It is classic Lapierre style; a natural, pure, brilliant Gamay. Serve slightly chilled and enjoy young. One bottle wont be enough!
Method
This cuvée takes the Vin de France appellation, because the Beaujolais' governing body decided to do away with the Vin de Pays designation in Beaujolais, leaving only the appellations and Vin de France.  The wine is still almost all from the cru of Morgon, with a little bit of A.O.C. Beaujolais as well.   Mostly young-vine Morgon, bottled just after a winter settling in screwcap.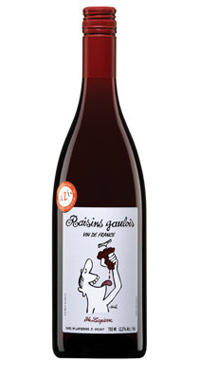 You may also like...
Express Shipping!
For select shipping postal codes, this product may be eligible for Express Delivery! Click here to learn more.