Le Macchiole – Scrio Toscana IGT (750ml)
Food Pairing

SteakGameRoast meats

Farming Method

OrganicAll of our products that are tagged with the term Organic are either organic certified or organic practicing. Learn More
Le Macchiole is located in Bolgheri, Tuscany, on the stunning Etruscan Coast. The landscape is magical, where rolling hills are blanketed by forest and where vineyards and olive trees meet the Tyrrhenian Sea. Le Macchiole was founded in 1983 on the desire of Eugenio Campolmi and Cinzia Merli to turn their passion for wine into their life dream. It was a revolutionary project rooted in their hometown of Bolgheri, at the time not as famous as now. Eugenio passed away in 2002 at young age and his wife, Cinzia continues on with their dream. There are 24 hectares of estate owned vineyards, organically farmed with each harvest producing 5 wines: Paleo Bianco – Toscana IGT, Bolgheri Rosso – DOC Bolgheri, Paleo Rosso – Toscana IGT, Scrio – Toscana IGT and Messorio – Toscana IGT.
Tasting Notes
This deep, spicy red was first produced in 1994, and the inspiration for its creation was the desire to produce a 100% Syrah, one of Le Macchiole's favorite grapes. Rare and original and produced in very small quantities, Scrio quickly became a benchmark in Bolgheri. The name of the wine, inspired by a Tuscan expression that means "pure, candid, whole," perfectly describes its defining characteristics. Made
Method
Made from 100% Syrah from two vinyards, Puntone planted in 1994 and Vignone planted in 1999.  Yields are extremely low (just 800g per plant!).  The grapes are hand harvested and fermentation and maceration lasts for 25 days in stainless steel and concrete tanks.  the wine ages 16 months in new tonneaux and conical trunk cask plus a small percentage in ceramic.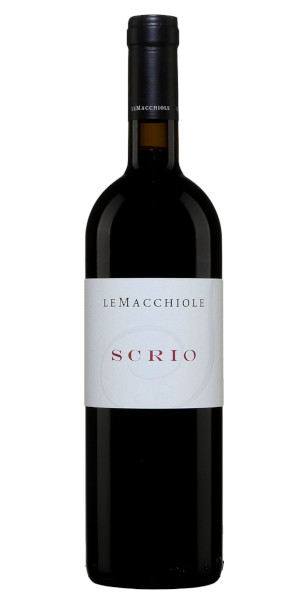 You may also like...