Marco Barba Barbarossa (750ml)
Food Pairing

Grilled VegetablesPasta DishesPizza

Grape

Cabernet FrancMerlotOther red grapesRaboso Veronese
Marco "Barba", grown up in Madonna di Lonigo, near Vicenza, is the heart (and the face, if you check the label closely) of the Marcobarba project. Since his youth, as soon as he finished the mandatory studies, he began working as a carpenter, but he soon discovered a deep interest for biodynamic agriculture and Rudolf Steiner's anthroposophy. He's thus moved in the Jura canton of Switzerland, to work as a shepherd and agricultural farmer. In 2015, returned to Veneto, he began working with his friend Stefano Menti in the latter's family winery. Thanks to the enologic experiences accumulated in the Menti Winery, he started, in his free time, to produce some wine from the grapes of several vineyards he managed on behalf of a few elderly widows in his native town.
In the following years, with the help of a few friends he met during the years working at Menti, Marco improved the agronomic aspects of his wine production, and since 2018, driven by their passion for biodynamic agriculture and their respect for nature, Marco and his close knit team of "Barbaboyz" have launched the Marcobarba brand. Marco and the Barbaboyz' winemaking and bottling is done in the Menti Giovanni Winery.
Tasting Notes
Lots of juicy red and dark fruit on the nose and palate. Medium bodied and unoaked with crunchy red fruit, bright acidity, a little spicy stemmy note that adds a layer of interest and a mineral backbone. This is an extremely gulpable red and will pair with a range of foods. Delicious with antipasti, pizza, pasta in light tomato sauce or mushroom risotto.
Method
From an exclusively biodynamic viticulture, interventions reduced to the minimum and always in harmony with the vineyard.  Barbarossa is mainly Merlot, plus other varieties such as Cabernet, Raboso and other indigenous grapes unknown.  Fermented wine with indigenous yeasts, in cement tanks; aged for 12 months in steel tanks and bottled unfiltered with a very small addition of sulfur.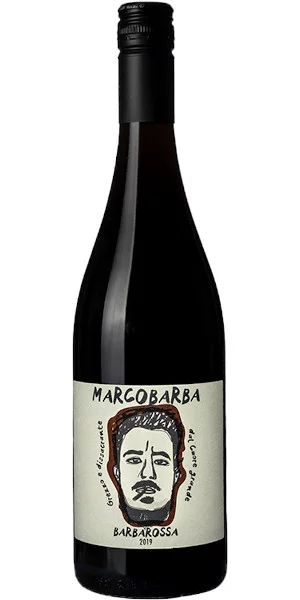 You may also like...