Montes Alpha Chardonnay (750ml)
Sub-Region

Casablanca Valley

Farming Method

ConventionalMost products with this label come from producers who do their best to avoid any intervention at all but it's possible that some of the aforementioned preventative measures and additions are deemed necessary. Learn More

Food Pairing

PoultryWarm Vegetable Dishes
In 1987, Aurelio Montes and Douglas Murray, both highly experienced wine professionals, wanted to realize their dream of producing Chilean wines a quantum-leap higher in quality than the standards of the time and were the first winery to officially make a premium wine with their 1987 Montes Alpha Cabernet Sauvignon. In 1988, they joined up with the other two founders, Alfredo Vidaurre and Pedro Grand, who brought their own complementary skills and expertise to the venture. Montes is a pioneer in the Chilean wine industry and today produces a range of wines in various category levels, from entry level easy drinking wines to premium and ultra premium wines.
Tasting Notes
The intense, complex nose offers tropical fruit aromas such as pineapple, banana, and ripe mango, while pleasing notes of peaches and pears round out the fruity profile. The coastal climate is very much present in the subtle notes of grapefruit and white asparagus. Smooth attack on the palate with perfectly balanced acidity, resulting in a very fresh wine that also has generous volume. This Alpha Chardonnay ends with a long and elegant finish that invites another glass.
Method
Colchagua is one of the Chilean wine valleys with the most international prestige, in which Viña Montes was a pioneer in establishing its production. This valley is located in the central zone of Chile, less than two hours driving from its capital, Santiago. The beautiful vineyards are located in one of the best terroirs in the area, Apalta. Its unique characteristics and location, allow a mild exposure to the sun of the vines, which contributes to a slow, although more complete maturation of the grapes. 
Despite being located a bit farther from the ocean (23 kilometers from the Pacific), Casablanca is characterized by the cool climate, even in the summer months, with a large number of cloudy days with cool breezes almost all day. This valley produces fresh white wines with a good level of acidity.  35% of the wine was aged for 12 months in French oak barrels.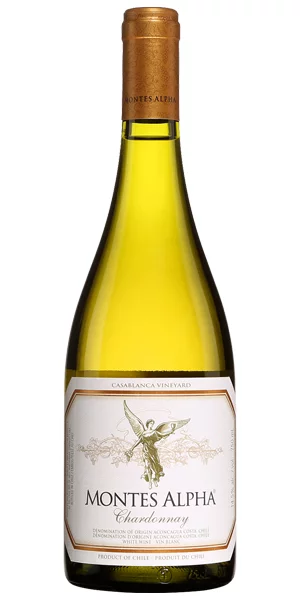 You may also like...