North – Pleasant Disposition IPA (473ml)
Beer Style

New England IPALeans heavily on late, dry hopping techniques to deliver a bursting juicy, tropical hop experience. Learn More

Tasting Notes

JuicySmoothTropical
North Brewing started in the North-End of Halifax, Nova Scotia under the name Bridge Brewing, but have since changed names to North Brewing. In the spring of 2019 they moved to much larger new brewery on Portland St. in Dartmouth. With a strong commitment to environmental responsibility, North Brewing strives to be a zero emissions craft brewery while producing exceptional, hand-crafted beers.
Tasting Notes
All about aromatics – so fresh, juicy, and tropical! Big notes of guava, mango, and clementines with an subtle herbal backbone. The palate drinks real soft, with big flavours that are balanced and kept from being cloying thanks to the carbonation and a dry finish.
Method
A 6.6% IPA made with Strata, Amarillo and Sultana hops, and fermented with Vermont Ale yeast from Escarpment Labs.
Our Thoughts
Hazy IPAs make for some of my favourite beers and this is no exception; to get the full effect of the beautiful haze within, give your can a gentle little roll before opening. Perfectly captured by the image on the can itself, the yellow background leads into bright citrus and tropical notes; incredibly easy to approach, just like the friendly looking sloth. The hops are juicy- not overly bitter, and leave your tongue with a pleasant dry tingle.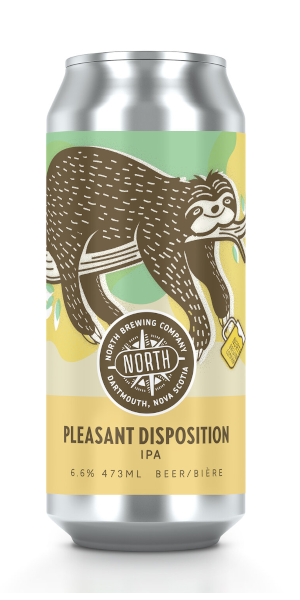 You may also like...
Express Shipping!
For select shipping postal codes, this product may be eligible for Express Delivery! Click here to learn more.