Osoyoos Larose Le Grand Vin (750ml)
Sub-Region

Okanagan Valley

Grape

Cabernet FrancCabernet SauvignonMalbecPetit Verdot

Farming Method

ConventionalMost products with this label come from producers who do their best to avoid any intervention at all but it's possible that some of the aforementioned preventative measures and additions are deemed necessary. Learn More

Food Pairing

SteakGameRed Meat
Osoyoos Larose is an iconic Canadian winery that began as a joint venture between Vincor in Oliver and Groupe Taillan, a French wine conglomerate in 1998. Bordeaux winemaker, Pascal Madevon was recruited to oversee the project. When he arrived in southern BC, Pascal was very impressed with the quality of the grapes, the dry climate and relaxed lifestyle of the Okanagan valley, which was so unlike Bordeaux, that he soon brought his family over from the Medoc and became a Canadian citizen.
Since its inaugural release of the Le Grand Vin in 2001, there have been some changes of ownership (Groupe Taillan is now sole proprietor) and new French winemakers have come on board while others have left. Since that time, Osoyoos Larose has humbly won over the hearts and palates of connoisseurs, the media and other winemakers. The wines speak for themselves; unlike Bordeaux, there is no opulent chateau, or tourist attraction tasting room.
Osoyoos Larose makes only two wines like many Bordeaux estates; Le Grand Vin, their top-tier wine designed long term aging and a second wine, Les Pétales, which is a blend made from whatever is not used in their premier wine and is more approachable earlier on. The wines are blends of the classic Bordeaux grapes – Merlot, Cabernet Sauvignon, Cabernet Franc, Petit Verdot, and Malbec. The percentages vary depending on the vintage, though Merlot tends to dominate the blend.
Tasting Notes
A rich full-bodied wine featuring aromas of ripe red raspberry, dark chocolate, toasty caramel and vanilla. Opulent notes of blackberry fruit, spice and pepper grace the palate with a well-rounded tannin structure and fruit-driven lingering finish. This is designed for long ageing, and can rest in the cellar for 8+ years, if you have the patience.
Method
This Bordeaux-inspired red blend captures the warm, dry climate of the estate's single block vineyard overlooking Osoyoos Lake.  Le Grand Vin' is a classic Bordeaux blend of Merlot, Cabernet Sauvignon, Cabernet Franc, Petit Verdot, and Malbec.  The grapes are hand harvested, sorted and destemmed, crushed, fermented in stainless tanks before being transferred to barriques.  It is barrel aged for 18 to 20 months and laid down for an additional six months after bottling. Made to be cellared for eight to ten years.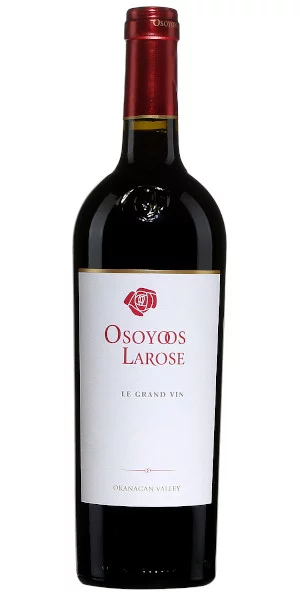 You may also like...