Propeller – Galaxy New England IPA 12pk (4260ml)
Beer Style

New England IPALeans heavily on late, dry hopping techniques to deliver a bursting juicy, tropical hop experience. Learn More

Tasting Notes

JuicySmoothTropical
First opening their doors in 1997, Propeller Brewing Company has gone from a small brewery on Gottingen St. brewing a Pale Ale and an Extra Special Bitter to become one of the largest brewery's in Nova Scotia and a driving force in this industry. Owner John Allen has allowed the business to grow and branch into multiple locations and a comprehensive product line that includes beer, ready to drink cocktails, and craft sodas. They have won awards both locally and nationally for a wide array of products and continue to experiment with new styles and old favourites.
Tasting Notes
Propeller Galaxy started as a seasonal offering but quickly turned into a full time core product. This IPA is very tropical and silky smooth, focusing largely on intense juicy hop flavour and aroma and less on bitterness. No wonder why this beer has quickly become one of Nova Scotia's most popular IPA's.
Method
Propeller's Galaxy IPA boldly takes you into the delicious dimension of New England IPA. Huge on hop aroma and flavour without as much of the intense bitterness. Australian Galaxy hops explore rich pineapple, peach, and tropical citrus aromas.  Citra and Mosaic hops add undertones of tangerine and mango.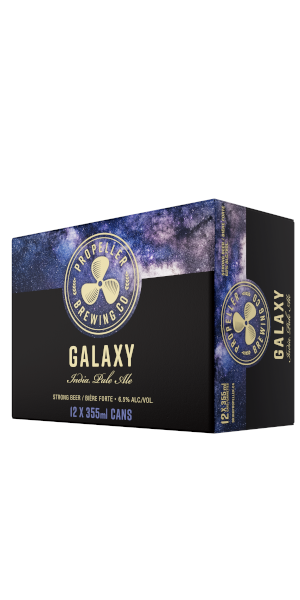 You may also like...
Express Shipping!
For select shipping postal codes, this product may be eligible for Express Delivery! Click here to learn more.