Quintarelli Primofiore (750ml)
Grape

Cabernet FrancCabernet SauvignonCorvina

Farming Method

ConventionalMost products with this label come from producers who do their best to avoid any intervention at all but it's possible that some of the aforementioned preventative measures and additions are deemed necessary. Learn More

Food Pairing

SteakPasta with Tomato SauceRed Meat
The late, great Giuseppe Quintarelli, succeeded in establishing his mythical and legendary estate during an amazing sixty-year career. Quintarelli's wines express the tradition, love, heart, and soul of the terroir in the hills of Verona. Giuseppe's daughter Fiorenza, his son-in-law Giampaolo, and his grandsons Francesco and Lorenzo are all keeping a close watch over the family's legacy and to this day, Giuseppe Quintarelli remains one of the icons of Italy. The wines are released only when deemed ready, not a moment sooner.
The Quintarelli name is synonymous with traditional handcrafted wines that are very much a labour of love born of time, effort and patience. Giuseppe, fondly known as "Bepi" to those closest to him, was a perfectionist in every way. From the beautiful handwritten labels, to the best possible quality cork, to the exquisite wine in the bottles, the Quintarelli name is a stamp of authenticity and the ultimate indication of an artisanal, handmade, uncompromising wine of the highest quality.
Tasting Notes
Blackcurrant, cherry, spice, herbaceous and earthy notes on the nose and palate. Lots of concentration and depth, deep fruit flavors, with herbs, earth and leather. Fresh acidity, velvety tannins and a long finish. Try this with meatloaf, roasted brussel sprouts with garlic and Parmigiano cheese, Venetian style liver and onions.
Method
This wine is classified as an IGP/IGT Indicazione Geografica Protetta / Tipica as it is made outside of the traditional rules for Valpolicella winemaking.  One could call it a "Super Venetian".  It is a blend of Corvina 50 %, Cabernet Franc 25 %, Cabernet Sauvignon 25 % grown on limestone basalt soil.  "Primofiore" means "the first flower"; it is the youngest wine released by the estate every year.  The Cabernet is partially dried in wooden boxes after the harvest, while the other grapes are freshly pressed.  After pressing and fermentation, wine is aged for several years in Slavonian oak barrels.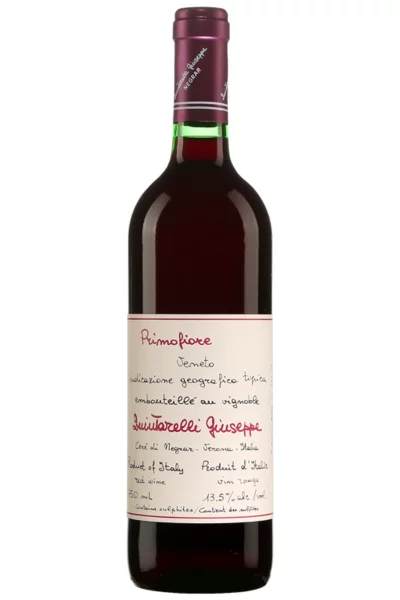 You may also like...
Express Shipping!
For select shipping postal codes, this product may be eligible for Express Delivery! Click here to learn more.