Kooksoondang – Banana Makgeolli (750ml)
Spirit Category

Makgeolli

Tasting Notes

CreamyYogurtBanana
Makgeolli is an alcoholic drink made and widely enjoyed in Korea. Produced from a mixture of wheat and rice, it is sweet and milky with a clean smooth taste. Classified and described as a 'sparkling rice wine.' It is low in alcohol, just 3%. Serve it chilled, and gently shake before drinking for a better taste and richer flavor. This one has a hint of banana flavor.
Tasting Notes
The milky, off-white, and lightly sparkling rice wine has a slight viscosity that tastes slightly sweet, tangy, bitter, and astringent. Chalky sediment gives it a cloudy appearance. The nose can include sweet rice and yogurt, and the thick wine has a milky, creamy mouthfeel. It has low to medium acidity thanks to the natural fermentation and no tannins since it is not made using grapes. As a low proof drink of six to nine percent alcohol by volume, it is often considered a "communal beverage" rather than hard liquor. This one has a hint of banana flavor.
Method
Makgeolli is made from rice using nuruk, a Korean fermentation starter.Nuruk is a dry cereal cake that has been allowed to ferment and mature to promote the growth of molds producing hydrolyzable enzymes that decompose the starches of the cereal grain into sugar. This sugar is then used by yeast to produce alcohol through fermentation. Different kinds of nuruk, made with different ingredients such as rice, wheat, barley, or mung beans, produce makgeolli of a variety of flavors.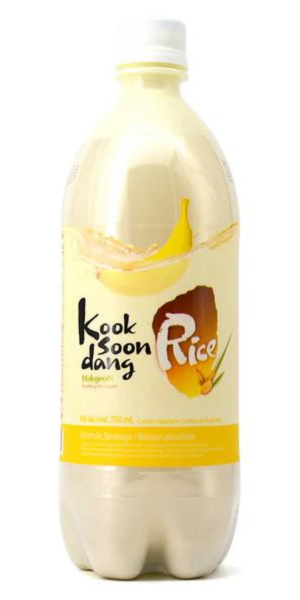 You may also like...
Express Shipping!
For select shipping postal codes, this product may be eligible for Express Delivery! Click here to learn more.