Ridge Estate Cabernet Sauvignon (750ml)
Sub-Region

Santa Cruz Mountains

Farming Method

OrganicAll of our products that are tagged with the term Organic are either organic certified or organic practicing. Learn More

Food Pairing

Lamb ChopsSausagesStew
The history of Ridge Vineyards begins in 1885, when Osea Perrone, a doctor who became a prominent member of San Francisco's Italian community, bought 180 acres near the top of Monte Bello Ridge. He terraced the slopes and planted vineyards; using native limestone, he constructed the Monte Bello Winery, producing the first vintage under that name in 1892. This unique cellar, built into the mountain side on three levels, is Ridge's production facility. At 2600′, it is surrounded by the "upper vineyard."
Though born in the early sixties to the post-Prohibition world of modern California winemaking, Ridge relies on nature and tradition rather than technology. Ridge takes a pre-industrial approach to winemaking; find intense, flavorful grapes; intrude upon the process only when necessary; draw the fruit's distinctive character and richness into the wine.
Tasting Notes
On the nose, pungent aromas of blackberry, currants, wild fennel, cola, and black olive. On the palate, the wine is full-bodied with medium chalky-tannins reminiscent of black tea. Pair with beef stew, lamb chops (or any cut of lamb, really), or sausages.
Method
Made from 78% Cabernet Sauvignon, 21% Merlott, and 1% Petit Verdot, the grapes are hand-harvested, estate-grown, destemmed, and sorted. 100% whole berries fermented on the native yeasts, full malolactic on the naturally occurring bacteria with minimum effective sulfur. 20 months barrel ageing in 100% air dried American oak (48% new, 31% one year old, 21% two years old). Four egg whites per barrel for tannin reduction, depth filtration at bottling.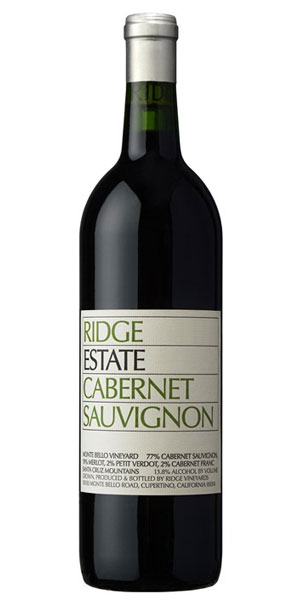 You may also like...