Ron Diplomatico Reserva Exclusiva (750ml)
Tasting Notes

richsweetViscous
Situated in a town called La Miel near the Andes in Venezuela, Distilerias Unidas produces a variety of distillates but is certainly best-known internationally for their phenomenal rum. Ron Diplomatico Exclusiva has become something of a standard-bearer for modern Venezuelan rum as it is one of the most awarded rums in the world and frequently tops both tasting panels and consumer reviews. Diplomatico is made entirely from molasses and sugar cane honey from local sugar processing plants and has a much higher concentration of sugar than most rum producers have available to them. The result is an exceptionally rich and sweet rum that never fails to turn heads.
Tasting Notes
Diplomatico Exclusiva has a rich mahogany colour and obvious viscosity in the glass. The nose immediately presents butterscotch, fruit cake, candied ginger, cinnamon and clove. The palate develops with baked bananas, fudge sauce, and chewy toffee alongside vanillan oak and a touch of syrupy gingerbread. The finish is long, rich, warming and sweet with no rough edges. This is a rum I would definitely skip the mix with.
Method
Ron Diplomatico Exclusiva is made using a combination of local molasses and sugar cane honey which it ferments for around 48 hours prior to distillation for maximum flavour. Distilerias Unidas uses column stills for the first distillation and then short copper pot stills for the second distillation to enhance body and texture. The finished distillate is then aged in ex-bourbon barrels (though apparently they're experimenting with some sherry barrels as well) for up to 12 years before being blended and bottled at 40% alcohol by volume.
Express Shipping!
For select shipping postal codes, this product may be eligible for Express Delivery! Click here to learn more.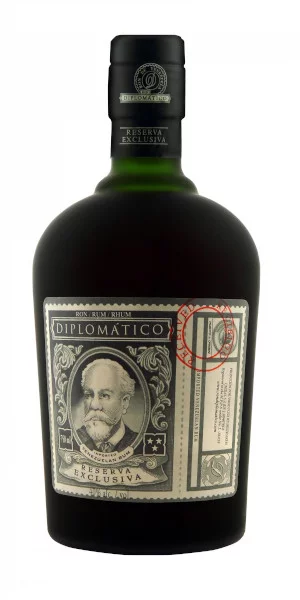 You may also like...