Farming Method

ConventionalMost products with this label come from producers who do their best to avoid any intervention at all but it's possible that some of the aforementioned preventative measures and additions are deemed necessary. Learn More

Food Pairing

Cold SaladsSeafood
Domaine du Salvard has been a working domaine since 1898, through five hardworking generations of the Delaille family. Today, all forty-two hectares of vineyards are farmed by the brother team of Emmanuel and Thierry Delaille, with help from their father Gilbert. They have carried on the traditions established by their ancestors, producing a true, classic Cheverny that is both simple and elegant. Their attention is on growing fresh, lively Sauvignon Blanc, deeply rooted in the sand, clay, and limestone plains of northeastern Touraine.
The Appellation Origine Controllee Cheverny was created in 1993 . The Sauvignon Blancs produced here definitely give the more famous appellations of Sancerre and Pouilly Fume a run or their money.
Tasting Notes
Brilliant yellow in the glass. Aromas of citrus and lemon grass, orange blossom and fresh greens. The palate is medium bodied, with a crisp refreshing character, and flavour that echo the nose; green apple, fresh peas, lemon grass, honeysuckle and citrus oil. Clean, focused with a wonderful balance of ripe fruit and minerality.
Method
The appellation of Cheverny is characterized by mostly sand and clay soils with some gravel terraces and in places, limestone.  The climate is continental, but influenced by the huge forests that surround it, and by the Loire.  Salvard's Cheverny blanc is composed of 85% Sauvignon Blanc and 15% Chardonnay.  The grapes undergo a 48-hour cold soak before pressing followed by alcoholic fermentation that takes place over 12 days.  The wine rests in tank on the fine lees for a period until it is bottled unfiltered.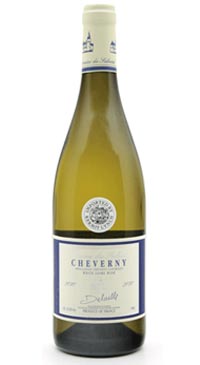 You may also like...