Springbank 10 Year Old Single Malt (700ml)
Spirit Category

Single Malt Scotch Whisky

Sub-Region

Kintyre Peninsula

Tasting Notes

honeyNutmegOrchard Fruit
Springbank takes pride in producing single malt Scotch made entirely in-house, employing traditional skills that have been passed down from one generation to the next. Produced since 1828, Springbank Single Malts are lightly peated in their kiln and distilled 2.5 times. No distillery in Scotland is more distinct or authentic than Springbank. They continue to make exceptional whisky by hand in the traditional manner. Without a doubt Springbank stands out as being the only distillery in Scotland using 100% of their own floor-maltings, fermenting the barley naturally, and distilling with a direct fire element.
Tasting Notes
From the distillery: Our 10 year old provides the perfect introduction to the Springbank range. Matured in a combination of bourbon and sherry casks, it is complex yet perfectly balanced from the first sip through to the sweet, salty finish.
On the nose, a gentle Kintyre coastal breeze, redolent with damp peat, identifies this as one of Campbeltown's finest. Fresh orchard fruit, orange zest, heather and honey combine with malt and vanilla notes to offer a warm welcome to Springbank's flagship malt. On the palate, equal measures of complexity and robustness with an oily mouthfeel and plenty of spice, pepper, nutmeg and cinnamon. The orchard fruit and malt notes from the nose continue, providing balance and character. On the finish, Sweet salted caramel, toffee and drying peat prolong to round off this signature malt.
Method
Aged in a combination of ex-bourbon (60%) and ex-sherry casks (40%), these casks are used for maturation to allow the distillery profile to show through while adding some depth of fruit and spice. After maturing for at least 10 years, Springbank 10 year is then diluted to 46% alcohol by volume and bottled. None of Springbank's bottlings are chill-filtered nor is any additions for colour stabilization or caramel used.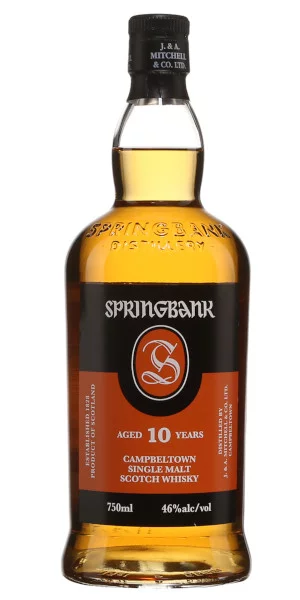 You may also like...