Two Hands Bella's Garden Shiraz (750ml)
Sub-Region

Barossa Valley
The "two hands" are Michael Twelftree and Richard Mintz who formed the company in 1999 with the clear objective of making the best possible Shiraz based wines from prized Shiraz producing regions within Australia. Quality without compromise is central to the Two Hands philosophy, driving all the decisions from fruit and oak selection to packaging and promotion. Two Hands' first vintage was in 2000, after a modest $30k investment and starting with just 17 tonnes of fruit. The journey had started.
By the end of 2004 a state-of-the-art winery was built on the same site, specifically designed for small batch handling. To maximize the individual regional and varietal characteristics and to allow for greater quality control, every parcel of fruit, no matter how small, could be handled separately from crushing through to fermentation and oak maturation. The new winery revolutionized the winemaking capabilities and experimentation flourished, new varietals were tested, new techniques adopted, with a Cellar Door as a perfect outlet for some of the trials to test the market. As production increased, more varied sources of Shiraz from the Western Ranges in the Barossa were added to the mix and broadened the complexity and palate to choose from.
Tasting Notes
This is a sumptuous wine, defined by its aromatic complexity and finesse. Predominately grown in the red/brown earth of the Barossa's western ranges, the soil profile creates firm powerful tannins and richness throughout the palate. Pair this with your favourite BBQ, smoked ribs, or beef roast(s).
Method
Bella's Garden is blended from select barrels of Barossa Valley Shiraz.  Lower yield limiting soils provide a large fruit concentration. This label's colour reflects the red soils of the Barossa's western ranges where some the best Two Hands vineyards are located.The grapes are sourced from the Barossa sub-regions of Ebenezer, Gomersal, Greenock, Kalimna, Marananga, Moppa Hills, Seppeltsfield, Stockwell, Stonewell.  The average age of the vines is 17-40 years old planted at altitudes of 200-320m.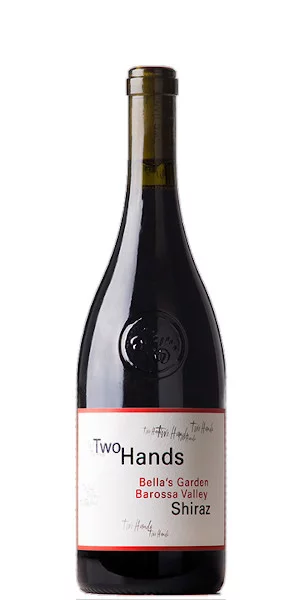 You may also like...