Wild – Tiny Bubs Cider (750ml)
Sub-Region

Harmony (Central Annapolis Valley)

Tasting Notes

BalancedDelicateDry
For centuries in the Annapolis Valley, farmers have pressed apples and fermented the juice in cool cellars over many months as a means of preservation and to yield a diverse range of cider refreshments. Wild Wines & Spirits uses native and selected yeasts to ferment pure apple juice, pressed on-site from apples they hand pick themselves. The cider is fermented slowly over the cool winter months, aged in barrels and tanks, then blended and bottled the following year.
Tasting Notes
Deliciously creamy texture, with bright fruit acidity of fresh sliced apple and blossom aromas on the nose and palette. Serve well chilled as a celebration or any occasion sparkling cider. Pairs best with local Nova Scotia seafood or summer greens.
Method
Tiny Bubs is a dry, naturally sparkling cider with delicate bubbles and a smooth mouth-feel. It is made from a blend of lightly aromatic still apple ciders. Through traditional in-bottle secondary fermentation, this cider was created in the style of Champagne wines. After 24 months on the lees it was hand disgorged without dosage to maintain its extra brut, crisp profile.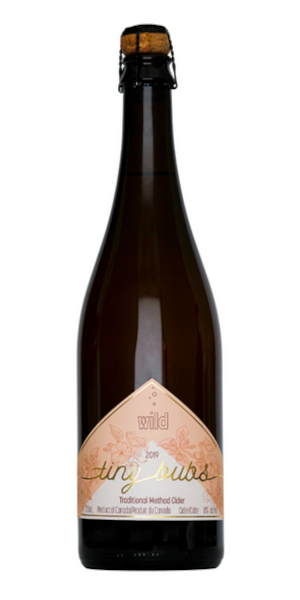 You may also like...