Wild – Tiny Bubs Cider (750ml)
Tasting Notes

BalancedComplexDry
Boars Back Cider is now called Wild Wines & Spirits
For centuries in the Annapolis Valley, farmers have pressed apples and fermented the juice in cool cellars over many months as a means of preservation and to yield a diverse range of cider refreshments. Wild Wines & Spirits uses native and selected yeasts to ferment pure apple juice, pressed on-site from apples they hand pick themselves. The cider is fermented slowly over the cool winter months, aged in barrels and tanks, then blended and bottled the following year.
Tasting Notes
Deliciously creamy texture, bright fruit acid with fresh sliced apple and blossom aromas to the nose and taste buds. Ways to enjoy it: Serve well chilled as a pre-meal beverage or try it with lightly seasoned white ocean fish, steamed mussels, shrimp, roast chicken or greens dressed with a non-vinegar dressing.
8.0% abv
Method
Tiny Bubs is a dry, naturally sparkling cider.
To make Tiny Bubs, cider maker Bryan created a blend from lightly aromatic apple ciders which were then bottle fermented and aged on lees for 24 months. He then hand-disgorged it over this past winter to make a crystal clear liquid.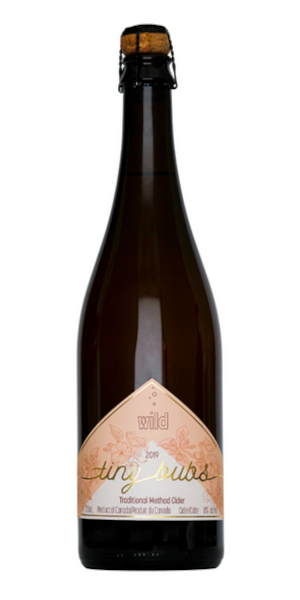 You may also like...