We are thrilled to welcome the wines of Chateau Clamens to our shop this Spring. When some of the Bishop's Cellar team tasted the wines from this domaine on a recent buying trip, they immediately knew that Chateau Clamens was a perfect fit for the store and would be well received by those looking for unique, off-the-beaten path and terroir-driven wines.
The domaine was founded in 1868, in the sunny region of Occitanie in Southwest France. Occitanie is a relatively new "super region" formed as a untion between the Languedoc-Rousillon and Midi Pyrénées regions. The landscape is varied, the Pyrenees mountains lie to the south and the Mediterranean sea coast to the east. Just writing about this area has me dreaming about travel and wine tasting in Southern France!
A sense of place
The vineyards of Chateau Clamens are located at the entrance to Toulouse, on the sandy loam and clay soil of the old terraces of the river Tarn. This area's favourable climate –which includes over 2,000 hours of sunshine a year, fairly cool nights, and little but consistent rainfall – is the perfect terroir for producing balanced wines with aromatic intensity.
Chateau Clamens has been a family domaine for 6 generations and today is managed by Jean-Michel Bégué, a passionate and talented craftsman. The domaine practices sustainable farming; the dry and sunny weather of the region is conducive to a more natural approach to viticulture, where the use of chemical treatments is minimal and only employed as a last resort. A prevailing regional wind called the Autan (Le Vent d'Autan) has an influence on viticulture here- and also the residents, as it is said to cause a bit of the crazies when it blows for long periods, where the locals refer to it as "Le Vent des Fou". The Autan Blanc blows from the south-east of France from the Mediterranean Sea, bringing warm air and clear skies thus keeping the vines dry and limiting disease. All in all, this place is blessed with the ecological and geographic conditions for producing quality wines and happy people.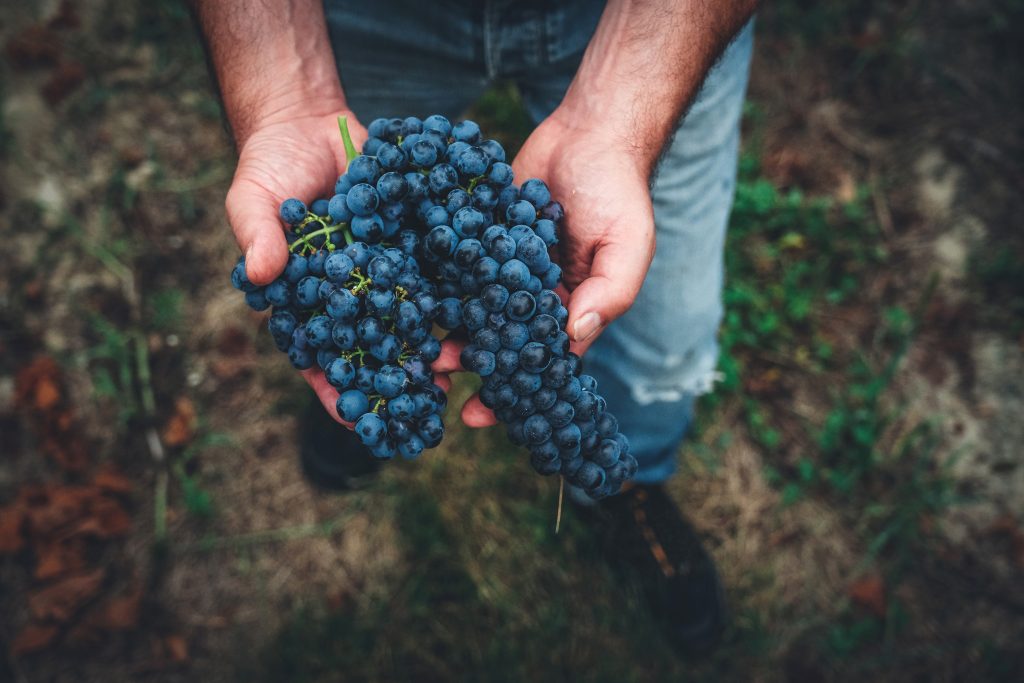 Photo: In the vineyard, from the Chateau Clamens website.
A Natural Approach to Winemaking
Jean-Michel keeps his grape yields low at 45 hl/ha with the aim of producing good flavour concentration and structure. The same care taken in the vineyard also extends to his winemaking. Jean-Michel uses minimal sulphur and bottles his wines unfiltered and unfined to keep with a very natural approach to winemaking, allowing the terroir come through in the wine.
His passion project is working with an indigenous grape variety called Negrette, which has thrived for centuries in the area around Toulouse and is the main grape of the Cote du Frontonnais appellation. Fun fact: some of this grape is planted in California, where it usually goes by the name "Pinot St Georges". The name is derived from the local dialect for the word black. There is a lot of lore around exactly how old this grape varietal is, and with the common occurrence of misnaming and mixing up grape varietals, pinpointing this grape's origins has not been easy.
This grape is characterized by black fruit, violet and spicy aromas- making red wines that are elegant, fleshy and powerful as well as balanced rosé wines. The acids are generally medium intensity and the wines are best enjoyed young to appreciate the rich fruit notes associated with this grape. It is sometimes referred to as the Beaujolais of Toulouse, making it an especially appropriate red wine choice for Spring and Summer sipping. Negrette also makes a wonderful blending partner with more structured and tannic grapes like Cabernet and Syrah and these blends are a treat for the senses offering fascinating aromatic intensity.
The domaine's white grape of choice is Gros Manseng, an intensely flavoured and thick skinned specialty from France's far southwest- characterized by aromas and flavours of citrus, apricot, spice and flowers.
New to our shop
In addition to the fantastic winemaking and a focus on diverse, indigenous grape varietals the wines that Bishop's Cellar selected from Chateau Clamens are all incredibly well priced! You won't have to wait for a special occasion to open and enjoy this new range of wines this Spring.
Here's what we have ordered for you- they'll be available in store this Friday, May 17th!