Farming Method

ConventionalMost products with this label come from producers who do their best to avoid any intervention at all but it's possible that some of the aforementioned preventative measures and additions are deemed necessary. Learn More

Food Pairing

BBQGameRed Meat
Alambrado is from Familia Zuccardi, one of the finest cellars in all Argentina. It is three times winner of Argentina's 'Top Value Brand', presented by IWC and head of the family, José Zuccardi, was given a lifetime achievement award by the same competition in 2016. As well as having state of the art facilities in both Maipó and Ucó, the family are committed to employing the many local families who served the company in José's father's time. He says, "We believe in using people rather than machines whenever possible." The Alambrado line of products are good value single varietal wines from Argentina.
Tasting Notes
A deep violet colour, with dark plum, figs and blackberries on the nose and palate. Noted for its fruity character and a good balance between tannins, alcohol and acidity. Pairing suggestions include beef burgers with blue cheese, roast pork, steak and mushrooms.
Method
Made from Argentina's flagship grape.   The vines are trained using a traditional overhead training method called the "parral" trellis.  This ensures an optimal quantity to quality ratio.  The grapes are fermented in stainless steel to preserve the primary fruit qualities of Malbec and the wine does not see any oak treatment.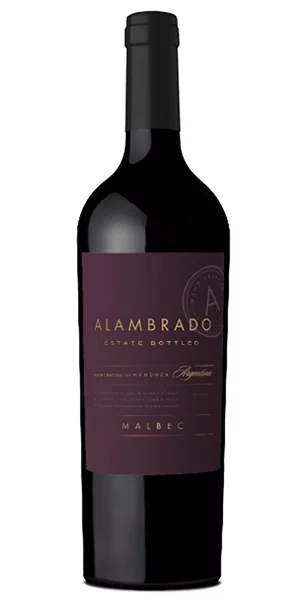 You may also like...