Amaro Quintessentia Nonino (700ml)
Tasting Notes

BitterOff-DryOrange
Headquartered in Percoto, Italy, The Nonino family of has been distilling since 1897. The project has come a long way from their humble beginning operating a mobile still on wheels. The Nonino family has embraced technology and innovation to create an exciting portfolio of spirits and was the first to produce a single grape varietal grappa in the 1970s. Though their facilities have grown and their methods have changed, the distillery remains very much a family affair to this day.
Tasting Notes
Amaro Nonino is a bittersweet marriage of baked marmalade, liquorice pipe, minty herbs, and soft warming spices on the long mellow finish. Amaro Nonino is delightfully sippable on its own and is an ideal gateway to the world of amaro though it's also extremely versatile in cocktails and spritz drinks.
Method
For all grappa-based products, the Nonino family sources quality grapes and pomace and de-stems all fruit prior to fermentation. The pomance is then fermented in temperature-controlled stainless steel tanks sealed from oxygen (anaerobic) to preserve freshness. Then they are distilled in small batches in copper steam stills and only the heart of the spirit is retained. From there the distillate may be aged in a combination of french oak and white cherry and no colour is added to any of their products and they are vegan-friendly.
Since the 1930s, Nonino has been making amaro by redistilling some grappa with a combination of herbs and botanicals before being aged for 5 years in a combination of barrels. After these complex flavours have had time to meld the amaro is bottled at 35% alcohol.
Our Thoughts
Nose: Distinct cola aromas, baked oranges, and nutmeg. Cocoa powder and vegetal notes.
Palate: Balanced between sweet and bitter with a round and rich mouthfeel. Earthy bitterness, milk chocolate, and baked orange.. a touch of vanilla. Great big lengthy finish of baking spices.
Excellent on its own over ice or in the classic Paper Plane.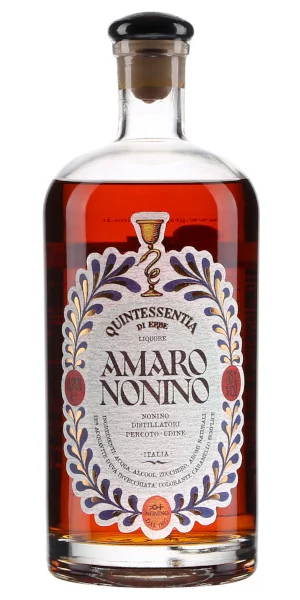 You may also like...