Bellwoods – Jelly King Non-Alcoholic Dry Hopped Sour (473ml)
Beer Category

Non-AlcoholicSour Beer

Beer Style

Dry Hopped Sour

Tasting Notes

CitrusrefreshingTart
One of Canada's most prolific craft breweries to pop up in the last decade – Bellwoods continues to impress and amaze anyone who can get their hands on a bottle. Over the years they've gone from lineups around the block at their Ossington ave. location, to opening a second much larger brewery, complete with rows and rows of barrels for mixed fermentation and dark beer ageing. So far in the Canadian craft beer scene, not many other breweries have made as many waves as Bellwoods.
Tasting Notes
Vibrant aromatics of stone fruits, citrus zest, and fresh herbs jump out of the glass and lead into a tart, but very balanced and refreshing beer. Jelly King always strikes a balance of fruit notes, acidity, and drinkability – whether with alcohol, or not.
Method
Jelly King translates well to a non-alc version, as many of the flavours that make it so nice to drink come from the yeast and the bacteria used in the brewing process. Brewers sour the base of both the beer and the non-alc in the same way, and this results in interesting, predominantly peachy characteristics brought on by mixed fermentation.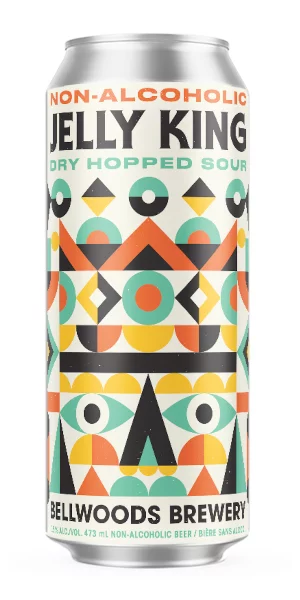 You may also like...
Express Shipping!
For select shipping postal codes, this product may be eligible for Express Delivery! Click here to learn more.