Nomad – Non Alc Pilsner (355ml)
Beer Category

Gold BeerNon-Alcoholic

Tasting Notes

BalancedCrispSmooth
It's time to wander. To break away from the pack and embrace adventure. Time to choose your own path and run wild. Nomad goes anywhere you go, with everything you do. Free of alcohol. Free of limits. Real craft beer, brewed with premium ingredients, full flavour and zero alcohol. You've found your beer, now get out there and Find your Freedom.
The Tatamagouche Brewing Company (commonly referred to as "Tata") is a family owned and operated craft brewery located in the heart of Tatamagouche, Nova Scotia. In 2014, the family converted an old butcher shop into a brewery, and have since added several additions to the sides and back of the building to help accommodate their growth. Tata Brew is one of only a handful of Certified Organic breweries in Nova Scotia, and their beers have won awards provincially as well as nationally.
Tasting Notes
With classic Pilsner aromas and flavours, Nomad Non-Alc Pilsner showcases light golden malt notes that lead into a light and refreshing palate. Subtle grassy, herbal, and peppery character helps to compliment the refined bitterness from Euro hops. Finish is smooth, crisp, and easy going.
Method
Pilsner beer is made from Pilsner malt, some of the lightest malt you can find. This provides a neutral and delicate foundation for noble German or Czech hops to shine through. Pilsners are more bitter and robust than a typical golden lager such as Helles, or any of the various international pale lagers.
To make Nomad, the Tatamagouche Brewery runs a full strength, fully brewed Pilsner into a membrane filtration machine. With velocity and pressure, this machine separates the beer into two parts; alcoholic water, and dealcoholized beer extract. The beer extract is then re-hydrated, and turned into a delcious alcohol free beer!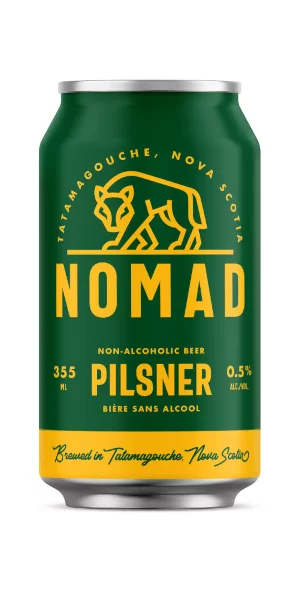 You may also like...
Express Shipping!
For select shipping postal codes, this product may be eligible for Express Delivery! Click here to learn more.