Bulwark – Non Alcoholic Cider (355ml)
Tasting Notes

CrispDryrefreshing
Muwin Estate is the name behind Bulwark Ciders. Situated on five acres of fruit orchards and berries in New Ross, Nova Scotia, the company produces fruit wines and ciders under the Bulwark label. The cider is produced using 100% pure juice extracted from luscious crops of apples, cranberries and wild blueberries hand-picked from estate fruit and neighbouring farms.
Tasting Notes
Mouth watering, delicate effervescence; Bulwark's signature 5-apple blend fermented to perfection – only 0.5% alcohol. The best way to indulge without overindulging, this non-alcoholic cider is refreshing any time of day. Enjoying responsibly was never an easier choice to make!
Method
Bulwark has a special production process that allows them to remove the alcohol after it's been fermented, this gives the drinker a feeling of drinking a fermented cider and not just "apple juice". It really does taste like hard apple cider, just without the alcohol!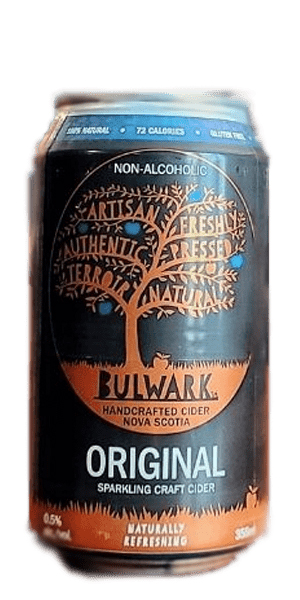 You may also like...