Big Spruce Cereal Killer Oatmeal Stout (473ml)
Located in Nyanza, just west of Baddeck on Cape Breton Island, Big Spruce Brewing is a certified organic, on farm facility. The unfiltered, unpasteurized organic beers are sold in refillable 1.89 litre growler bottles at the brewery, in 473ml cans and on tap at select locations around Nova Scotia.
Cape Breton's first Craft Microbrewery. Atlantic Certified Organic Facility. First and only on-farm Craft Microbrewery in the Maritimes. Only the second on-farm certified organic brewery in all of Canada!
Tasting Notes
A rich, moderately dry stout with deep chocolate, liquorice and coffee flavours. This stout will convert even the most fearful of dark beer drinkers!
Method
Oatmeal Stouts are brewed with the addition of flaked oats in the grain bill. Oats contribute a very creamy and smooth texture to the finished beer. They also aid in head retention.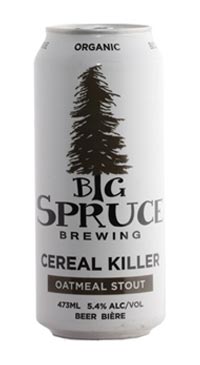 You may also like...