Big Spruce – Cereal Killer Oatmeal Stout (473ml)
Beer Style

Oatmeal StoutFlaked oats add a smooth, rich body to the finished beer; roasted malt character is caramel and chocolate-like. Smooth, not bitter. Learn More

Tasting Notes

CreamyDark ChocolateSmooth
Located in Nyanza, just west of Baddeck on Cape Breton Island, Big Spruce Brewing is a certified organic, on farm facility. The unfiltered, unpasteurized organic beers are sold in refillable 1.89 litre growler bottles at the brewery, in 473ml cans and on tap at select locations around Nova Scotia.
Cape Breton's first Craft Microbrewery. Atlantic Certified Organic Facility. First and only on-farm Craft Microbrewery in the Maritimes. Only the second on-farm certified organic brewery in all of Canada!
Tasting Notes
Pouring deep dark brown, with rich aromas of dark chocolate, licorice, and coffee flavours that follow into a palate that's full bodied with bold flavours, and a moderately dry finish. This stout will convert even the most fearful of dark beer drinkers, and would be most happy being sipped by a campfire or along side a beef stew!
Method
Oatmeal Stouts are an old English style of stout brewed with the addition of flaked oats in the grain bill. Oats contribute a very creamy and smooth texture to the finished beer, as well as aid in head retention. A style made by a select few brewers in the U.K. only to find acclaim by modern craft brewers. Because of this style, craft brewers have taken to adding oats in all manners of styles, including IPA's.
Our Thoughts
I love when a stout strikes the balance between rich, chocolatey notes and a dry, malty finish, which is exactly what the Cereal Killer delivers! This oatmeal stout is made in an old English style and is an approachable dark beer for folks who usually stick to something lighter. This beer is my first choice for a cozy winter sipper, or to pair with a hearty beef stew.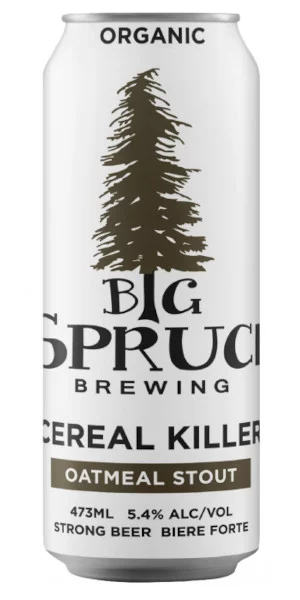 You may also like...