O'Hara's – Nitro Irish Dry Stout (440)
Beer Style

Irish Dry StoutAn emphasis on coffee-like roasted barley and a moderate degree of roasted malt aromas define much of this beer style's character. Learn More

Tasting Notes

MaltyRoastySmooth
Carlow Brewing Company, also known as O'Hara's Brewery, is an independent, family-owned business established in 1996 and one of the pioneers of Irish craft brewing. Located in the heart of Ireland's traditional malt and hop-growing "Barrow Valley" region which has strong historical linkages to the Irish brewing industry, they have proudly been at the forefront of the new wave of Irish craft brewing for almost 17 years.
Tasting Notes
O'Hara's Irish Stout has a robust roast flavour complemented by a full-bodied and smooth mouth feel. The generous addition of Fuggle hops lends a tart bitterness to the dry espresso-like finish. This sessionable stout beer is filled with rich complex coffee aromas mingled with light licorice notes. The combination of traditional stout hops with an extra pinch of roast barley allows us to stay true to Irish tradition, recreating a taste so often yearned for by stout drinkers.
Method
The flagship of the O'Hara's brand, this uniquely Irish stout brings one back to how Irish stouts used to taste. First brewed in 1999, it has since been awarded prestigious honours for its quality and authenticity. Think of this as "Craft Guinness", and now in 440ml cans with widget technology that allows you to experience the same brilliant cascading effect and smooth creamy head as a draught pour.
Our Thoughts
First off, to get the full effect of the nitro beer in your hand you're going to have to forget how you typically pour your beer; for the full cascading experience, pour this on a 90 degree angle and you don't have to be gentle.

Similar to Guinness in many ways but expect more of a toasty, rich malt character; espresso and dark chocolate, with a nutty character turned milky-smooth from the nitrogen.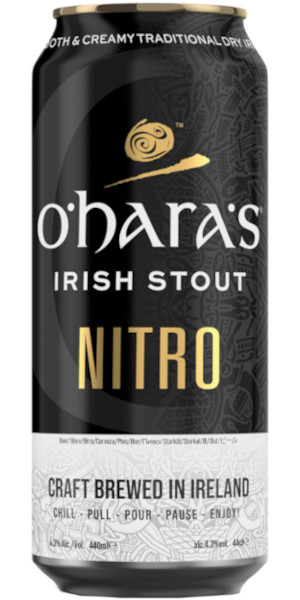 You may also like...