Bluff – Alcohol Free Margarita Cocktail (355ml)
Tasting Notes

refreshingSmoothSpicy
Bluff Alcohol-Free Cocktails are of a new product line from the same people who brought le Brasseurs du Nord Beer, and Shape Seltzers to Quebec. Not to be confused with Bluff Cider from Avonport, NS!
This lineup of alcohol-free canned cocktails is a first for Bishop's Cellar, as we look to provide non-alc offerings in more ways than beer and wine.
Tasting Notes
Yuzu and lime aromas dominate, with notes of agave in the background. The palate is full-bodied and silky, with zesty lime, a pinch of salt and a hint of spice. The finish is of saline and citrus, with a tangy lime aftertaste.
Method
Alcohol-free ready to drink cocktail – 100% made in Quebec. Bluff your way through cocktail hour with this alcohol-free Margarita that you'll swear is the real thing. Or, use it a mix with your favourite Tequila to make an ultra refreshing spin on the classic cocktail.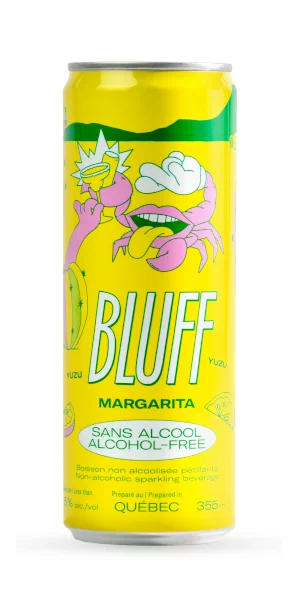 You may also like...
Express Shipping!
For select shipping postal codes, this product may be eligible for Express Delivery! Click here to learn more.