Burrowing Owl Merlot (750ml)
Sub-Region

Okanagan Valley

Farming Method

OrganicAll of our products that are tagged with the term Organic are either organic certified or organic practicing. Learn More
Founded by Jim Wyse in 1993 and named after the endangered species that used to populate the area, Burrowing Owl's winery and vineyards are situated in the northernmost tip of the antelope brush system (which is part of a semi-arid shrub-steppe), a low rainfall natural grassland. Despite the desert ecosystem that adjoins some of their vineyards (and not without the challenges that this can create), these grasslands contain enough moisture levels to contribute to the growing of premium grapes.
With their first vintage in 1997, Burrowing Owl originally focused on Cabernet Sauvignon, Merlot, Chardonnay and Pinot Gris. Since then, the winery has expanded its offerings and now grow some 16 varietals across their three estate vineyards (210 acres in total). With organic vineyard practices, composting, the use of environmentally friendly sprays, and a "no harm" wildlife policy (among other things), Burrowing Owl's environmental philosophy is best summed up by this quote from the winery: "It has been the overriding environmental philosophy at Burrowing Owl to take the long term view of our vineyard and winery practices and on a global scale we strive to do no harm."
Tasting Notes
An intensely perfumed nose with notes of violet, black fruits, and pastry dough. The palate is full-bodied, with a mixture of red and black fruits, added herbs, and focused minerality. Ripe tannin and an abundance of acidity make this worthy for anyone's cellar- if you can wait! Pair this with a variety of BBQ dishes, game, and pork.
Method
After a mild winter, the 2021 growing season got underway with early bud break occurring in March followed by timely fruit set. 2021 will be remembered as a very hot year with record-breaking temperatures in late June. Less frequent cooler nights coupled with the heat led to efforts to retain acidity in the grapes by picking earlier. While yields were somewhat impacted by the exceptional temperatures, phenolic ripeness was more easily achieved in the grapes harvested.
The Merlot grapes were hand-harvested from Burrowing Owl Vineyards' blocks in Oliver and Osoyoos between October 1st and 19th. They were sorted by hand, destemmed and then gently crushed before being gravity-fed into stainless tanks for a cold soak (3 days) and vinification (14 days). Alcoholic fermentation temperatures ranged from 16 to 30 °C. Both "free run" and "pressed" wine were then moved into barrels for malolactic fermentation followed by 15 months of ageing. The selection of barrels helped round out the tannins and contributed to complex savoury and spice notes. After the blending of barrels, the wine was bottled and left to mature until its release.
Express Shipping!
For select shipping postal codes, this product may be eligible for Express Delivery! Click here to learn more.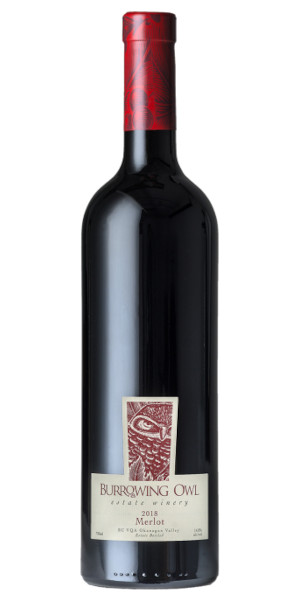 You may also like...
Express Shipping!
For select shipping postal codes, this product may be eligible for Express Delivery! Click here to learn more.