Champagne Dom Perignon (750ml)
Grape

ChardonnayPinot Noir

Food Pairing

CheeseSeafood

Farming Method

ConventionalMost products with this label come from producers who do their best to avoid any intervention at all but it's possible that some of the aforementioned preventative measures and additions are deemed necessary. Learn More
First released in 1937 (the 1921 vintage) and owned by Moet Chandon, Dom Pérignon is a prestige cuvée (also known as tête de cuvée) which is the top Champagne that a producer will make. Dom Pérignon is vintage champagne only. Each vintage is a creation, singular and unique, that expresses both the character of the year, and the character of Dom Pérignon. After at least eight years of elaboration in the cellars, the wine embodies the perfect balance of Dom Pérignon, the Plénitude of harmony.
Dom Pérignon was a Benedictine monk and cellar master in the 17th century. He is widely credited as being the "father" of Champagne and thought to have said: "Come quickly, I am tasting stars!" upon his first taste of sparkling wine. While the champagne method came before Pérignon began his efforts, he is known to have perfected the art of Champagne making overall. He is credited with creating and mastering many techniques like blending grapes to improve wine quality, enhancing flavours in finished wine, and proper bottling pacing. He also started using cork closures and thicker glass bottles so they would not explode under pressure.
Tasting Notes
The nose is full and varied, mingling flowers with fruit, and the vegetal with the mineral. The bouquet is tactile, subtly enticing us along a trail of powdery white flowers and apricot, followed by the freshness of rhubarb and mint and the minerality of ash. White pepper. Energy dominates on the palate. After a welcoming opening, the wine quickly becomes vibrant and then literally explodes with a surge of effervescence and tonicity. Focused by acidic and bitter notes, the finish brings a penetrating tautness marked by ginger, tobacco and toasted accents.
Method
Dom Pérignon is made from Pinot Noir and Chardonnay from many Grand Cru vineyards, but each blend always includes grapes from the original plot in the Abbey of Hautvillers, which is classified as Premier Cru fruit.  Each bottling of Dom Pérignon contains grapes only from a single year, making it a vintage Champagne and showcasing that vintage's unique characteristics.  If growing conditions are not favorable for high quality production, no Dom will be made that year.   Dom ages for 8 years in bottle on the lees before disgorging and dosage.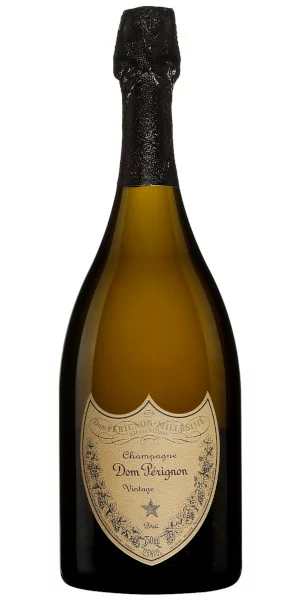 You may also like...